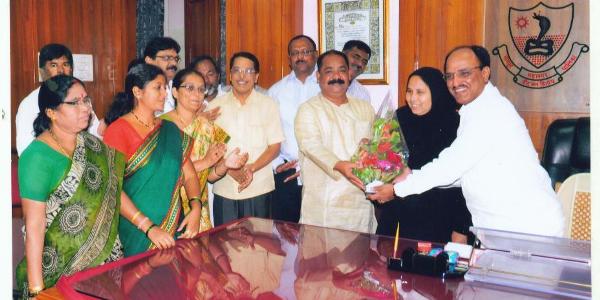 Nagpur News.
The Bharatiya Janata Party (BJP) Corporator Bandu alias Sudhir Haridas Raut was elected unopposed the Chairman of NMC's Parivahan Samiti (Transport Committee).
The Corporator from Ward 42 B (Killa), Bandu Raut was declared elected unopposed by the Chief Executive Officer of Nagpur Zilla Parishad and the Presiding Officer P Pradeep as no other member filled the application form for the post of Chairman of Transport Committee of the NMC. The other members of the Transport Committee who were present on the occasion include Avinash Thakre, who is also the Chairman of Standing Committee, Bhushan Shingne, Shrawan Khapekar, Divvya Dhurde, Gopichand Kumre, Sumitra Jadhav, Murlidhar Meshram and others.
Four members of the Transport Committee out of 13 were absent during the election meeting held at Panjabrao Deshmukh Hall of Standing Committee. The absent members include Prashant Dhawad, Arun Davre, Sandeep Sahare, and Prakash Gajbhiye.
The Mayor Anil Sole and Deputy Mayor Jaitunnabi Ashfaq Ansari felicitated and greeted the newly elected Chairman of Parivahan Samiti Bandu Raut by offering him bouquets in a function held at Mayor's chamber. Others who graced the occasion include Central Nagpur MLA Vikas Kumbhare, Avinash Thakre, Ruling Party Leader Pravin Datke, Medical and Health Committee Chairman Ramesh Singare, Slums Improvement Committee Chairman Jagdish Gwalbanshi, Gandhibagh Zone Chairperson Rashmi Fadnavis, Committee members Sumitra Jadhav, Divvya Dhurde, Nominated Member Prakash Totwani, Sanjay Bonde, and BJP Corporator Vilas alias Guddu Trivedi.