Gopal Bohre elected second time, Varsha Thakre, Raju Nagulwar, Lata Yadav, Mangala Gavare too elected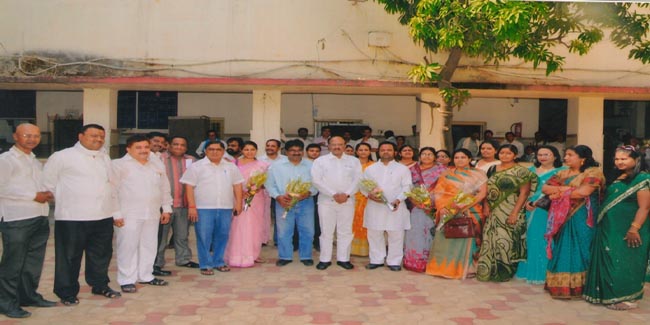 Nagpur Today News : The elections for Chairmen of five Nagpur Municipal Corporation (NMC) Zones were completed today (April 29) after a detailed discussion by the Bharatiya Janata Party which is Ruling Party in NMC on the issue. The Zones for which the elections were held are: Laxmi Nagar, Dharampeth, Hanuman Nagar, Dhantoli and Nehru Nagar Zone. The Nehru Nagar Zone was for Shiv Sena. However, the top BJP bosses were in favour of grabbing all the five zones for their leaders but failed in their efforts to do so. In today's elections the BJP installed their leaders on the posts of Chairmen at three zones, one each post went to Nationalist Congress Party (NCP) and the Shiv Sena accounts.
It may be recalled a meeting of core committee of BJP leaders was held at Nitin Gadkari's residence in Ram Nagar on April 28. The leaders who were present at the meeting included State unit party President and MLA Devendra Fadnavis, Nagpur unit President and MLA Krishna Khopde, another party MLA Sudhakar Deshmukh, Mayor Anil Sole, NMC Standing Committee Chairman Avinash Thakre, Ruling Party Leader in NMC Pravin Datke, and others.
After a detailed discussion in the meeting, it was decided to give Gopal Bohre a second chance as Laxmi Nagar Zone Chairman. The names of Munna Yadav and Nilima Bavne were also discussed for the post but the influence of Devendra Fadnavis for his confidant worked in favour of Gopal Bohre.
For Dharampeth Zone, discussion on the names of Vishakha Maind and the Independent Corporator Parinay Fuke was held in the meeting but the party finally decided in favour of Varsha Thakre, a BJP Corporator from Ward No. 25 for chairmanship of the zone.
For Hanuman Zone, NCP's Raju Nagulwar was elected as Chairman of the Zone by all parties unanimously leaving behind Ramesh Singare and Satish Holey.
For Dhantoli Zone, the BJP watered down the plan of its allied Corporators by giving a chance to Ward 26 Corporator Lata Vinod Yadav (Ghate).
For Nehru Nagar Zone, the Shiv Sena and BJP honoured their understanding and Shiv Sena's  Corporator from Tajbagh-Dighori Mangala Gavare was elected Chairman of the Zone.
The elections for Gandhibagh, Satranjipura, Lakadganj, Aasi Nagar and Mangalwari Zones would be held on April 30. At present Aasi Nagar Zone is in BSP's pocket and Mangalwari Zone has Congress Chairman.