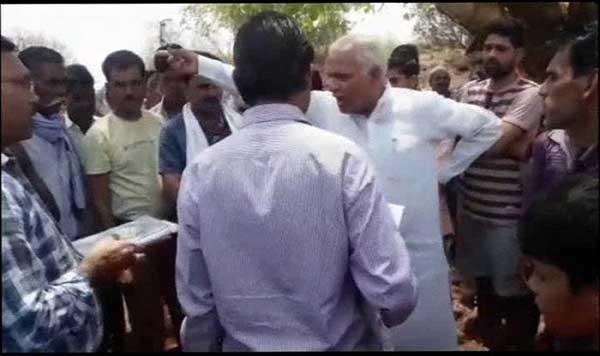 New Delhi: A Bharatiya Janata Party (BJP) leader Jagannath Singh Raghuvanshi was caught on camera threatening an employee of the state electricity department. The incident took place in the Isagarh city of Madhya Pradesh on Saturday. Raghuvanshi, who represents Sidhi constituency in the state, got angry when the electricity department employee told him that four lakh electricity bill was due on him.
According to news agency , he got into argument with the employee and had threatened the employee of blackening his face and beating him up with the shoes. 'You are living at my mercy here, or else I would have blackened your face," he said to the employee.
#WATCH BJP leader Jagannath Singh Raghuvanshi gets into an argument with an employee of electricity department in Isagarh, says, 'I would have blacken your face & beaten you up with shoes' #MadhyaPradesh pic.twitter.com/7MksGQB82g

— ANI (@ANI) June 2, 2018
In the video, it was clearly seen that Raghuvanshi snapped at the employee after he told him that four lakh electricity bill was due to him. However, this is not the first time BJP leaders had courted any controversy. Last month, a video of Bharatiya Janata Party MLA Harshvardhan Bajpai of threatening and abusing the Allahabad Superintendent of Police had gone viral. The MLA had lost his cool after SP didn't recognise and allegedly stopped him when he came to attend the meeting hosted by Chief Minister Yogi Adityanath.
Last year, a video of Bharatiya Janata Party MLA from Muzaffarnagar Vikram Saini was surfaced showing him bragging about threatening police personnel and officials. The legislator, instead of appealing to the people to follow rules, bragged about how he used his power to get a traffic challan canceled.