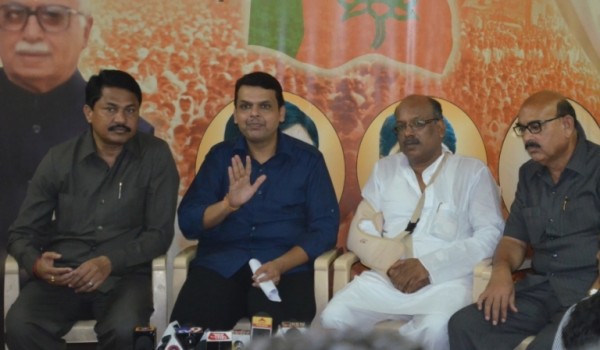 Nagpur News: The Maharashtra Unit President of BJP, Devendra Fadnavis termed the Special Relief Package utterly short of expectations. The Chief Minister Prithviraj Chavan should adequately increase the compensation amount for the rain-ravaged farmers of Vidarbha. The halfhearted relief would create more problems over and above the farmers are facing, instead.
"The Bharatiya Janata Party would visit every Taluka in Vidarbha and will carry out its own surveys by organizing Gram Sabhas (meetings). The BJP will personally ask the farmers of their losses caused by the rain-fury. The Government surveys lack the credibility as the surveys are not done systematically and personally. Asfter the Gram Sabhas, the party will take out morchas to highlight the need for more compensation to the farmers," Devendra Fadnavis said.
Commenting on the Chief Minister's remarks on separate Vidarbha demand not viable, the enraged Fadnavis said, "The BJP doesn't value his remarks. The remarks of the Chief Minister are on the lines of anti-Vidarbha Congress leaders. The Congress leaders are themselves divided over the issue of Vidarbha statehood. Some leaders are anti-Vidarbha and some are pro-Vidarbha. Therefore, the Chief Minister's remarks have no value," the State BJP chief said.
Devendra Fadnavis was talking to media at the party's Divisional Office in Dhatoli.
NO LOANS TO FARMERS FROM SBI:
Fadnavis also distributed the Xerox copies of correspondence between B K Talware, the Chief Regional Secretary of State Bank of India Officers' Association, Nagpur Module Office and Shankar, DGM Zone-II, SBI. In the correspondence, the Deputy General Manager Shankar, was found telling the Branch Managers not to sanction fresh crop loans to farmers notwithstanding whether they were customers of District Cooperative Bank or not.
"The oral instructions of Deputy General Manager has put the officers of rural and semi-urban areas of Nagpur, Bhandara, Gondia, Wardha and Chandrapur Districts in a very difficult situation. There are no written instructions and in case of complaints, the officers would face the consequences. The State Bank of India Officers' Association has taken up the matter with Deputy General Manager Shankar on August 7. Perhaps the Deputy General Manager may go from his words and find some ways to avoid responsibility and taking stand that they were asked not to sanction such cases only where no-due certificates are not coming. But, in fact, no such instructions were conveyed," the letter by SBI Officers' Association to DGM Shankar said.
Fadnavis pointed out the fact to prove that Government only talks of providing every help to farmers but the ground reality is totally contradictory