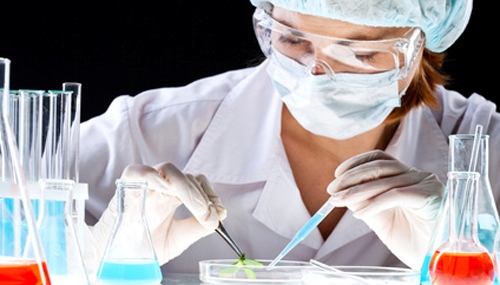 Modern biotechnology provides breakthrough products and technologies to combat debilitating and rare diseases, reduce out environmental footprint, feed the hungry, use cleaner and lesser energy, and have safer, cleaner and more efficient industrial manufacturing processes.
Currently, there are more than 250 biotechnology health care products and vaccines available to patients, many for previously untreatable diseases. More than 13.3 million farmers around the world use agricultural biotechnology to increase yields, prevent damage from insects and pests and reduce farming's impact on the environment. And more than 50 bio-refineries are being built across north America to test and refine technologies to produce biofuels and chemicals from renewable biomass, which can help reduce greenhouse gas emissions.
Biotech is helping to heal the world by harnessing nature's own toolbox and using our own genetic makeup to heal and guide lines of research by reducing rates of infectious disease, creating more precise tools for disease detection and combating serious illnesses and everyday threats confronting the developing world. Whereas the bio-fermentation industries serves the society by streamlining the steps in chemical manufacturing processes by 80% or more.Using biofuels to cut greenhouse gas emissions by 52% or more, decreasing water usage and waste generation and improving manufacturing process efficiency to save 50% or more on operating costs. Biotech improving the World's agricultural economy by developing crop insect resistance enhances crop herbicide tolerance and facilitates the use of more environmentally sustainable farming practices.
This thrusting field has some misconceptions which we are trying to resolve in this article. When most people this of opportunities for career in biotechnology, they think of a scientist in a white coat in a laboratory developing drugs to improve the quality of life. However, biotechnology has a wide variety of career opportunities from employee to employer ranging from sales and marketing, to research and development, to manufacturing and quality control and assurance. The biotechnology industry continues to flourish nationwide. Not only are the total number of biotechnology companies increasing, but employment in the biotechnology fuel continues to grow as well. To being to prepare for a career in biotechnology, here are several steps to consider that may be helpful.
Courses that students can pursue as career in Biotechnology: Bachelor Degree in Biotechnology; B.Sc and B.Tech in Biotechnology.
Master degree in biotechnology; M.Tech, M.E (by research) and M.Sc.
Ph.D in Biotechnology, Diploma in biotechnology in some University
Awareness in surrounding: Students should be aware about the courses available in surrounding public and private sectors, working on biotechnology in different areas.
What students should do ?
Network and stay connected: always stay connected, make contacts and network in the biotechnology field. Be familiar with state and national biotech organizations and professional groups. Join the Biotechnology Institute forums and connect with our social media communities. Gain experience in the industry through work-based learning opportunities such as internships, coops, work study and job shadowing.
Keep learning; Be aware of developments in the field such as research on the web, read newspapers, trade journals and technical magazines as well as our industry and research news feeds.
If you enjoy science, math, technology, investigating and solving problems, and making useful products, a career in biotechnology may be just for you!!
Article is compiled by Dr. A. P. Kopulwar 
Assistant.Professor. Department of Biotechnology,
Priyadarshini Institute of Engineering and Technology