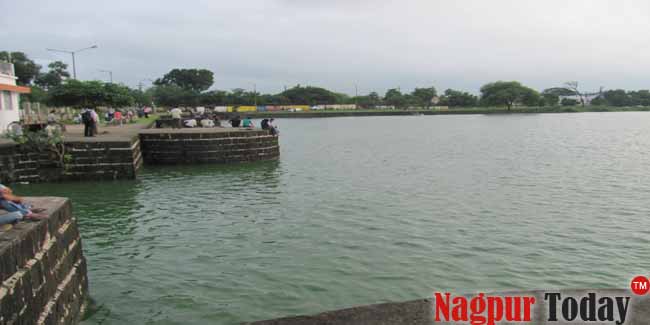 Nagpur News.
The Sonegaon lake beautification work is in total disarray. Out of the total outlay of Rs 3.25 crore for the same, Rs 2.50 crore was for digging the soil or desiltation of the lake. Bills claimed for the above work have been grossly manipulated, reveal documents obtained under the RTI Act.
Also, the amount of soil/earth excavated shows incongruity in different documents submitted by the Nagpur Municipal Corporation. Copies of the bill submitted by the contractor suggest that the excavation has been done for 1,04,409.79 cubic meter whereas the NMC in its reply to RTI application says that the amount of soil dug is 1,16,000 cubic meter, a whopping difference of 12,000 CUM or about 2400 trucks of garden soil. In monetary terms it comes to a difference of about Rs 9.60 lakh. The Municipal Commissioner should explain this difference, says Tanveer Ahmed, Corporator and activist fighting for the restoration of lake.
According to the bills submitted, the excavated soil/earth has been deposited at 1km, 2km, 3km, and 5 km distance from the site or lake and money has been claimed for the same.  Now, here is the catch. Firstly, one cannot deposit thousands of trucks of soil at one place, say at a distance of 1 km exactly. He has to deposit/distribute it in a phased manner, otherwise there would be a huge mountain of deposited soil at 1 km distance.  The same applies to 2 km, 3 km, and 5 km distance which the bills claim to have deposited soil at.
According to the tender document, 100 metres is free lead and is included in the item of excavation. Over and above that will be paid as per the distance. Items charged for 1000 metre (1 km) lead should actually be paid for 900 metres, excluding 100 metres which is part of the tender. Likewise, for 2 km (2000 metre), excluding the free lead of 100 metres, bills should be paid for 1900 metres distance only and so on and so forth. However, the excavated bills were duly paid by the NMC to the contractor.
Experts say that this has been done to claim more money for the 'lead'. For every say 100 metres, or 200 metres or 300 metres etc of soil transported and deposited, the contractor is claiming the lead for 1000 metres(1 km). More the lead, more money one gets and hence the manipulation, claim sources.
Ahmad also pointed out that bills for the same work i.e. excavation has been charged separately under another head of desilting, whereas there is no difference between the two.