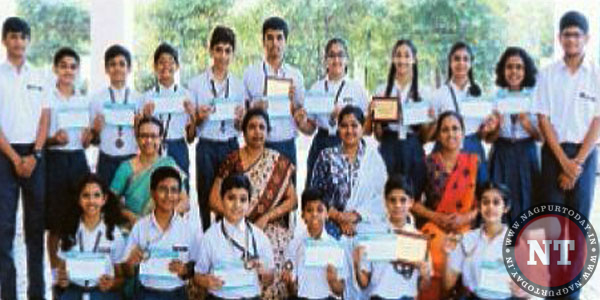 Nagpur: Students of Bhavan's B P Vidya Mandir, Trimurti Nagar, came out with flying colours in 2-day conference 'Junior Diplomathon' which was recently organised by Jain International School. The conference was aimed at fostering problem-solving skills and allowed students to get a taste of organised debate on international social and political issues under various committees like SAARC, NATO, UNCHR, WHO, and WWF.
Over 200 delegate students had participated in the conference. 15 students from Bhavan's B P Vidya Mandir, Trimurti Nagar, also participated in the event and brought laurels to the school by bagging several titles and awards.
Kashyap Mohanty of StdVIII was awarded with The Rising Star Award, Ayush Mandwar of Std VIII and Ayushi Jagtap of StdVIII were awarded with The Mountain Mover Award. Nimish Janai of StdVI, Ishaan Kaduskar of StdVI, Harshal Daf of StdVIII, Dhanya Anand (StdVII), Aman Poddar (StdVIII), Shreya Varshey (StdVIII), and Arya Lamge (Std IX) were appreciated for their initiative of coming ahead voluntarily to train the other delegate students.
The Management and Principal Parwati G Iyer congratulated the students and appreciated the teacher in-charges Sneha Varghese, Manjusha Hardas, Pooja Joshi, for their efforts and achievement.