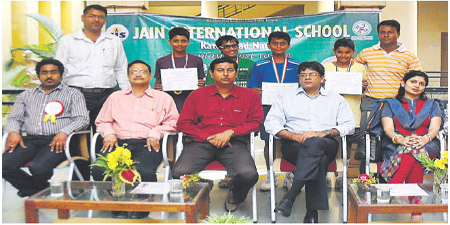 Nagpur News : The BVM Civil Lines, Nagpur beat Emerald Heights School, Indore 2-1 to clinch the under-14 boys title, whereas, in the girls MSMSV, Jaipur beat Navarachna School, Vadodara 2-1 during the West Zone Lawn Tennis Tournament organised at Jain Intrnational School (JIS) here on Tuesday.
The Jain Intrnational School bid farewell to all the participating teams of the West Zone Lawn Tennis Tournament in a well organised closing ceremony on Tuesday.
Nearly 294 students from 43 schools from MP, Maharashtra, Chhattisgarh, Rajasthan and Gujarat had taken part in the tournament.
The dignitaries present for the ceremony were Anuj Badjate, Director of JIS, Priti Badjate, Trustee of JIS, Sanjeev Agrawal, CEO, S B Jain Institute of Technology, research and management, Dr Indrajit Basu, the CBSE observer and Anmol Badjatia, the principal of JIS and the Chairperson of the organising committee.
In his address the director of the school congratulated the school staff for conducting the tournament as per the requirements of CBSE and congratulated the winning teams. The Organizing Secretary, Mr. Sandeep Harnal presented the Synopsis of the tournament. The CBSE observer Dr. Indrajit Basu presented his report about the tournament and hoped that next year Jain International School would host the Nationals in its premises.
The prize distribution was done under the guidance of Mrs. Jyoti Surana. Mrs. Kiran Joshi, CCA incharge proposed the vote of thanks. The ceremony was ably compered by Mrs. Charu Gulati.
The final winners of CBSE West Zone Tennis Tournament 2012 are as under :
Results

U-14 (Boys): Malhar Pagay lost to Denim Yadav (9-1), Vishwajeet Sambre beat Vadit Jaiswal (9-5), Malhar Pagay & Vishwajeet Sambre beat Denim Yadav & Vadit Jaiswal by (9-2)
U-14 (Girls): Swena Prashant lost to Avni Prapanna (5-7), Deepakshi Singh beat Varija Shah (9-1), Swena Prashant and Deepakshi Singh beat Avni Prapanna and Varija Shah (9-3)