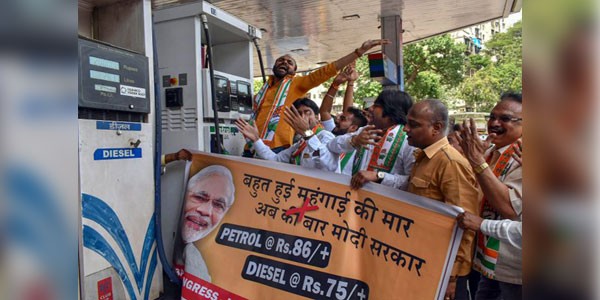 The Shiv Sena Sunday spurned Congress' request to participate in the Bharat Bandh called on Monday by the latter against rising prices of petroleum products.
Speaking to reporters in Mumbai, Maharashtra Congress president Ashok Chavan said he had made the request to Sena.
"It is not just the Congress but the Nationalist Congress Party, the Maharashtra Navnirman Sena, the Samajwadi Party and others too are supporting the bandh," he said at the press conference.
"We expect Shiv Sena to support it. I have personally spoken to (Sena Rajya Sabha MP) Sanjay Raut about coming out in the open against the price hike, but we are still waiting for their response," Chavan informed.
Responding to the Congress' request, Raut said Sena won't participate in the bandh. "The opposition should show their unity. The Sena is looking at the bandh neutrally," he said.
"This issue (price hike of petroleum products) has affected the common man to a large extent. There is lot of discontent among people regarding it," Chavan said.
The Congress leader said that with the rise in prices of petroleum products, the government was trying to take money out of the common man's pockets.
Chavan said his party was in favour of petroleum products coming under GST, but till then, central excise duty and other taxes, which he said is the reason for the price hike, should be reduced.
"There is talk about petrol and diesel being brought under GST. We will appreciate that, but until it is implemented, we demand that central excise duty and other tax levied by the Central and state governments should be
immediately reduced," he said.
The Raj Thackeray-led MNS Sunday announced it was supporting the bandh. In a statement, Thackeray said MNS will not only back but also actively participate in the bandh.