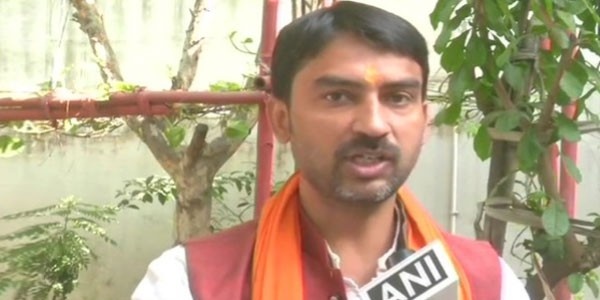 Patna: A day after a local court rejected his anticipatory bail petition, Arjit Shashwat Choube, son of Union Minister Ashwini Kumar Choube, surrendered before the Bihar Police on Sunday. Arjit Choube is accused of inciting communal clashes in Bhagalpur on March 17, during a procession that was carried out by workers from Bharatiya Janata Party (BJP), RSS and Bajrang Dal.
The police had registered an FIR against Arjit Choube on March 19 for leading a procession on March 17, without taking permission from the authorities. Arjit had termed the FIR as a piece of garbage, the view which was also supported by his father Ashwini Choube. "I am proud that he is my son. I am proud that my son did not do anything wrong, he was raising slogans in tribute to Bharat Mata," the union minister had said.
Additional Chief Judicial Magistrate (ACJM) Anjani Kumar Srivastava issued the warrants on an application filed by the Nathnagar police, seeking the arrest of the nine persons, who were named in one of the two FIRs lodged in connection with the Bhagalpur riots case.
Following the issuance of the arrest warrant, Arjit had moved an anticipatory bail plea on March 27. However, the court rejected his petition. Additional District Judge Kumud Ranjan Singh, after hearing the bail petition, said that the reasons cited by the defence counsel did not hold ground. Arjit unsuccessfully contested the 2015 Bihar Assembly poll from Bhagalpur.
Violence had erupted after people belonging to minority community objected to loud music being played during a procession taken out on the occasion of the new year as per the Hindu calendar. Authorities said the participants shouted some provocative slogans, which could have triggered the violence. Choube and other BJP leaders claimed that they had a permit for the procession and no provocative slogans were raised.