"Welcome to Sahara homes" says a board outside the gates of the Sahara City on Wardha road.
It was once touted to be the place to live in New Nagpur, but even before you go in the gate, you can see the jungle that is not just encroaching the Township, but will soon engulf it completely if no action to clean up and maintain is forthcoming.
A desultory guard, accompanied by a big mongrel dog, makes way to the gate asking you to make an entry. They are still going through the gestures as if this were a fully occupied, thriving gated colony where the next step will be the guard calling the occupant on intercom to confirm he is expecting guests. But he will do no such thing since there are no intercoms, no CCTV…not even clean drinking water available to the few residents who live within.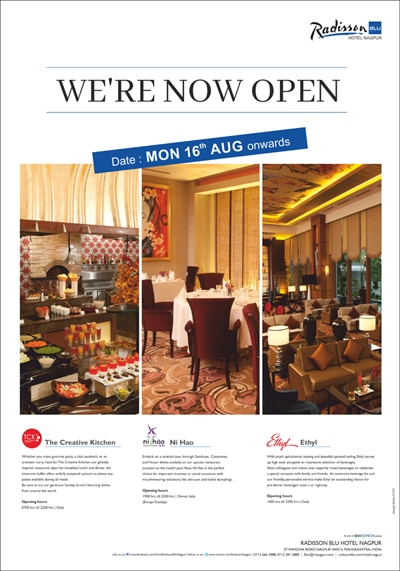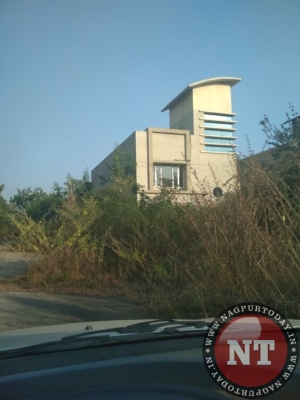 On paper, this still looks like an attractive living option, where each building has three lifts, and each 3 bedroom flat has 4 A/Cs fitted by Sahara.
But now only one lift works, quite sporadically. There is zero maintenance of it, so display panel is already dysfunctional. In the A & B wings where is some sign of 'human life', on some floors only. Yet, there are no lights provided on the landings or in the corridors.( "We will put the light bulbs, you just give us power connection" entreat residents. "Will have to get clearance from Lucknow" is the reply. Lucknow meanwhile – is deaf, dumb and BLIND.)
" No communication or request for action, even information, that is sent to Sahara office in Lucknow is ever replied to. I have sent Registered letters, which have all come back" says Shekhar Mazumdar who lives in the B block.
So you will find a torch handy in the drawing room of any 'occupied' Sahara flat. In case of an emergency, if they have to make way down the steps, it will be a life saver.
"When we bought the place and moved here, there were beautifully manicured lawns in front, and about 50 guards used to have a parade and a change of guard every evening. Now there are weeds instead of lawns and just 2 – 3 guards left. The rest went on strike due to non payment of salaries and left before Diwali. That is the usual story…" I am told.
Inside the Sahara City what you see is a Ghost Town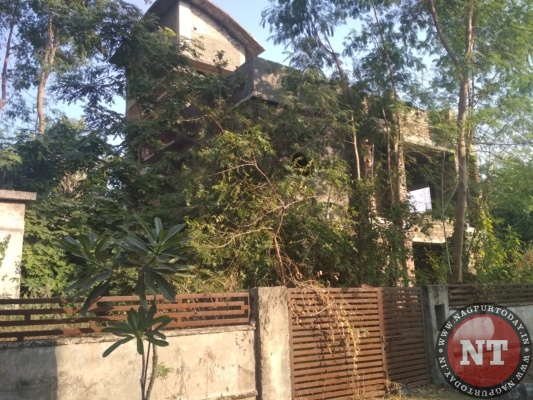 Immediately beyond the gates are the building complex A and B, which, like I said, have a little occupancy.
As you drive beyond this point however the thicket and the bramble bush intensifies. About 400 meters down the road, the bramble has covered the tiled footpath completely. There is no sign of it at all. Later on, even the road gets narrowed by the bush.
Hidden partially or wholly by the bush are half built buildings, completely deserted, where one would not dare to enter, even in bright sunlight. They are not buildings anymore, they are part of the jungle. (And make ideal hiding places for wild life, as acknowledged by Forest Officers themselves.)
Tragically many of these half built and abandoned buildings HAVE BEEN PAID FOR FULLY. Life savings 'invested' in homes that are part of the wild now.
But among the shrubs one spies signs of some human presence again!
The houses of Kohli and Mishra
'Kohli & Mishra residence ' say the boards pointing towards the direction. Yes, these two families are the ONLY residents of a 4 bedroom bungalow and a row house respectively among the dozens being built. They live on the far edge of the city, adjacent to the cross roads fondly named Bharatmata chowk by the residents.
"There were to be no temples or Gods of any particular Religion installed inside the Sahara city, we were all Indians first and foremost so we named this place Bharatmata!" informs a lady living here.
"It used to be our meeting place; our picnic point some years ago. We would bring our dabbas, play music and have ourselves a party!" Says Anu.
"When my sons visited we would be out walking around till 12 midnight! My children loved our house here and we never felt lonely" says Mrs. Mishra, adding sadly " but all that has changed now."
First the growing weeds and shrubs spoiled the lure of 'Bharatmata' and then people began sighting wild animals.
"Began with deer first…we were happy to see them! Then flocks of wild boar made their appearance; we began seeing other wild things like porcupines, Monitors ( huge lizards)… and then when a python was seen hanging from Mr. Kohli's place on evening, we just stopped the picnics. Now with the 'sighting' of a leopard/ tiger we don't even step out after dark" says Mrs. Mishra.
The Mishras have a house within the city near Medical college square too. They are maintaining both but live in Sahara.
"If we live here, that house in the city is easy to maintain. We go once a week and get it cleaned. If we lock and leave this house, in two days the forest will take over" says Mr. Mishra.
Mr and Mrs Kohli, who have a well appointed , beautiful 4 bedroom bungalow with a huge lawn and garden in front said they were proud of their house till recently.
" We were happy living in this isolated corner, close to nature. But now, every morning when my wife steps out for a walk I am filled with dread and foreboding. 'Will she come back safe?' is all I worry about!" Says Mr. Kohli.
His worry is not really far fetched. When we were doing a round of the place in our car, just a stone's throw away from his house, next to the boundary wall which is broken in many places, we saw suspicious pug marks on a sand pile. They were definitely not the prints of a dog's paws. One dog was killed, the rest have just vanished!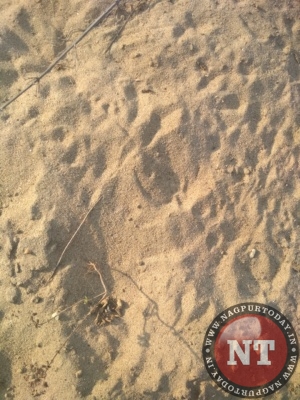 Seeing the pug marks, and surrounded by the bushes, even the eerie silence of 4 p.m. seemed scary.
"At nights , we hear roars of wild animals making us feel jittery" says Kohli and then adds in a jovial way " may be I should change my home into a wild life resort? I have two unused bedrooms upstairs, I could offer them to wild life enthusiasts to stay!"
But the party goes on…
After meeting a few residents we return to the gate.
But we are not allowed to leave , there is another party happening in the parking lot near Building B.
We are told we will get to meet the rest of the Sahara residents at the pot luck dinner which is in honour of the birthday of one Mr. Baijal.
" We have one or even two parties every month, we really don't need an excuse" people say.
When we go down for the dinner party, we see a maximum of 25 pax. These are the only families living in Sahara!! (Originally meant for thousands!)
There are some more stags working in MIHAN and some trainee nurses of a nearby hospital. They don't socialize much.
There is warm 'fellowship' with delicious home cooked food. The men segregate to one corner discussing politics, the women are busy arranging the buffet, coaxing the men to eat food 'while it's hot' and discussing day to day happenings.
It is heart warming to see, how indomitable the human spirit is. In the midst of this wild terrain, and ghostly shadows of half built buildings one could have become depressed and frustrated. But yet, here are people – some of them even living on rent – who exist here as one big, happy family! (May be if the township had been full, you would not see such bonhomie. There would be state wise, language wise cliques and families would have kept to themselves. There would be squabbles about parking, loud music and other petty matters…)
May be sweet are the fruits of adversity also!
Mr. Subroto Roy, Managing 'Worker' of Sahara, you should join such a party one evening in your own township. You might rejoice seeing people being happy in such conditions – not in spite of you but despite of you!!!
Granted with the SC ban on selling of properties, your hands are tied somewhat. But what prevents you from spending a little money to keep the 'Sahara city' free of bushes, have the grass cut back and at least keep the half built buildings approachable? You will not be doing anyone any favour, you have collected Rs. 10 lakhs for 'maintenance' from all the properties you sold here – which are many, despite low occupancy. 50% to 80% payments have been made on many others.
Or may be one should just remember your great Life Mantra:
"Nobody does anything for anyone. All do for themselves either for more and more material gains or to save and escape from any kind of material losses or from mental-emotional dissatisfaction or for getting more and more mental-emotional satisfaction. Therefore, no one sacrifices for anyone. When no one does anything for anyone, there is no justification in expecting any returns." Subroto Roy
Sunita Mudaliar, Executive Editor