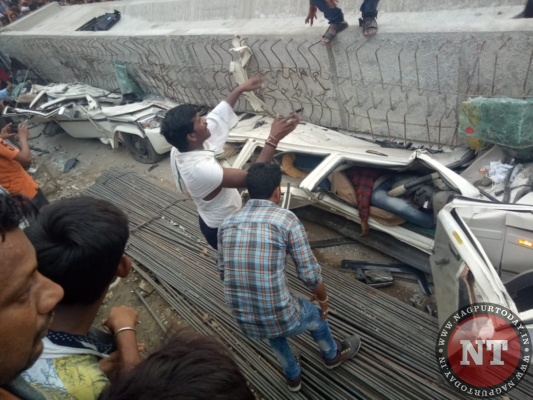 Nagpur: At least 19 people have been killed and over 12 injured after being crushed under two concrete beams which fell off 40-foot-high pillars of an under-construction flyover in Varanasi on Tuesday evening.
The mammoth slabs came crashing on crawling traffic on a busy service lane at 5:30pm between Cantonment railway station and Lahartara rail over-bridge yesterday.
Nine vehicles, including a bus, two SUVs, two cars, auto and two-wheelers lay in a twisted, mangled heap, triggering panic and chaos in the peak evening hours.
Meanwhile, Uttar Pradesh Chief Minister Yogi Adityanath said this morning that preliminary action had been taken against erring authorities responsible for the flyover collapse that has killed so many.
While speaking to BJP workers Tuesday evening, after the Karnataka election results had come in, Prime Minister Modi had begun his speech by saying
"I come here with both a sad and a happy heart. Sad, because so many lives were lost in Varanasi in a mishap today….and happy, because people of Karnataka have reposed faith in us."
Well, the 'happy' happening is this Wednesday morning seeing hectic parleys by not one or two but three Union Ministers being camped in Bengluru to 'direct actions and reactions' but there is no such presence in Varanasi where rescue work is far from over. It is all left to the bureaucracy of the state.
Principal Secretary (Home) of UP Arvind Kumar said that around 7 National Disaster Response Force (NDRF) teams of over 325 personnel had been deployed for relief operations at the site of the under-construction flyover collapse incident. Former UP CM Akhilesh Yadav also asked his party members to reach the accident site and help the people there.
It is reported that Union Home Minister Rajnath Singh is 'taking stock of the situation' – but from Delhi.
Union Health and Family Welfare minister J P Nadda directed Health Secretary Preeti Sudan to stay in touch with the health officials of Uttar Pradesh… while he himself remains camped in Karnataka.
The flyover was being constructed by Uttar Pradesh State Bridge Corporation and was scheduled to be inaugurated last December.
Addressing reporters last evening, UP Minister Sidharth Nath Singh had said that Chief Minister Yogi Adityanath had directed the administration to speed up rescue operation. Two ministers were also sent to the city to take stock of the situation. The chief minister directed the district administration and PWD officials to take all necessary steps for relief and rescue operations.
DGP OP Singh was quoted by media reports as saying: "We are in the process of evacuating the 50 people trapped under the debris. A majority of the people trapped are suspected to be the construction workers." Singh also recalled the Kolkata flyover collapse and went on to say that rescue operations were on in full swing.