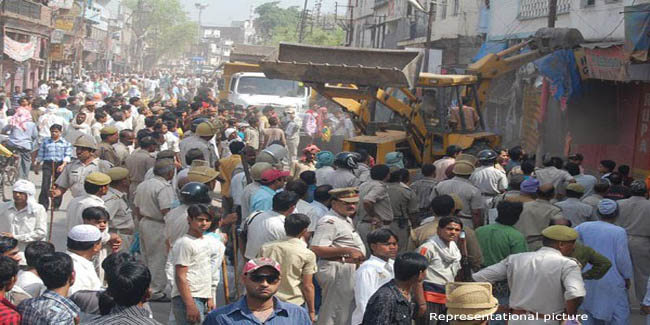 Nagpur News: The Nagpur Municipal Corporation (NMC) the way it carries out its various works can be gauged from a fact that shows how irresponsible are its authorities. Will you believe that in a city of Nagpur, popularly called Orange City, whose population is over 40 lakhs the Anti-Encroachment Department consists of only 32 employees? Got shocked? But it is true. Three squads are formed out of 32 employees to carry out anti-encroachment drives.
Most importantly, to oversee encroachment drives and illegal constructions, 50 Branch Engineers and Junior Engineers were appointed by the NMC. Similarly, Assistant Commissioners and Deputy Engineers of ten Zones were made the Monitoring and Supervising Officers. They were told that they will be held responsible for any encroachment occurs. It clearly means 50 officers for monitoring encroachments and only 32 employees for removing the encroachments.
Whenever a drive is taken for removing encroachments in a zone, the Assistant Commissioner of that zone requests Enforcement Department to send a team. After the team reaches in the zone, the team members find themselves helpless several times due to lack of proper vehicle, JCB etc. This factor creates hurdles in their anti-encroachment drive.
Now, the NMC has decided to launch major drives against encroachments it will require adequate number of employees as well as heavy security. It may be mentioned when former NMC Commissioner Sanjiv Jaiswal and former Nagpur Police Commissioner Ankush Dhanvijay jointly carried out massive drives against encroachments in entire Nagpur city, the anti-encroachment squad members found it easy to carry out their works.
Looking to this lacuna, encroachments have flourished in a big way in Dharampeth Zone and other zones too. NMC's Enforcement Department Superintendent D R Gajbhiye stated three teams have been set up for anti-encroachment drives. A Technical Assistant guides the teams whenever a drive is undertaken. Similarly, whenever the Assistan Engineers of ten zones request for the teams, the teams are dispatched immediately, Gajbhiye added.