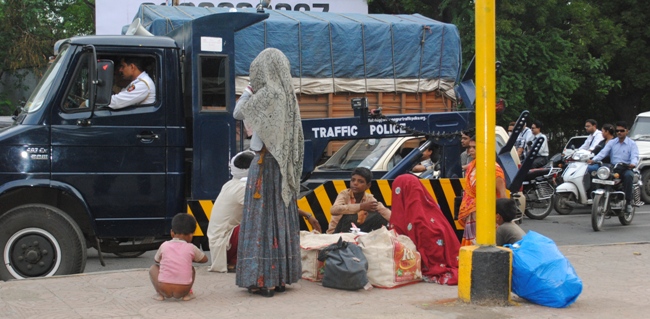 Nagpur News.
As we step out almost all of us encounter some or the other beggar in our course of the day. Whether on traffic signal, by the road side, at the bus stops, outside places of worships and parks or every possible place you can guess, the thriving count of beggars has just gone up in Nagpur like nothing. While the government machinery has engaged few programmes and shelter homes for these deprived lot but they prefer begging to be in the confines of any beggar homes. Even few of those brought to these homes often run away only to hit back on the streets, bothering commuters with their pitiable gesture. Insiders even warn of the notorious gang of thieves operating in the garb of beggars.
As Nagpur Today tracked down the prominent places in the city, it came across the category of beggars who display various tricks and moods to get you browsing through your wallets or purses to get some change.
These beggars play on our emotions and our religious sentiments. Some are so young, while some others carry infants or are very old and feeble. Very few give them alms. But that doesn't deter them. The next lot of road users stop at the square, and they are back to begging.
Begging's addiction hard to quit!
When Nagpur Today tried to find out why the government or the civic authorities don't do anything for them, it was greeted with shocking revelation. On condition of anonymity a highly placed official said that there have been many operations where these beggars were brought to the government run Home for Beggars at Mahal. "What pained us is that these beggars run away from there," he said. He informed that these shelter offer them water to clean themselves, good cloth, nutritious diet etc. Apart from that, they have doctors who tend to their wounds and treat them for various ailments. They have multi-religious prayers every morning.
Earning without work
They are also taught self sustaining skills wherein they have future prospects of self employment. The skills include leather work (Shoe repair, making etc), Candle making, liquid and bar soap making, incense stick making, chilly, coriander powder making & packaging, potato chips and wafers making techniques etc. After they have become adept in the skills, they are given tools and a little raw material to start their own livelihood. This is done in order to deter them from begging. Sources tell that these beggars run away from there since they have to be disciplined at Home of Beggars. They will have to work. While outside on the road, all they have to do is to spread their hands and beg without having to be disciplined. At some important or busy square or junction, a beggar can make as much as Rs 500 a day.
Ideal ground from crime
There also have been incidents when some juvenile delinquents stand at squares and when a lady on a two-wheeler stops at the traffic junction they snatch the hand bag kept near her feet and escape.
Begging does not stop at the roads only. You can find them at Railway stations, bus-stands, hospitals, schools, outside restaurants and hotels. Almost everywhere.
What should we as citizens do? Shun these beggars, ask them to earn a decent livelihood by working hard?
What law says
The law calls for punishment for those begging. According to the Bombay Prevention of Begging Act, 1960 "Begging" means soliciting or receiving alms, in a public place whether or not under any pretence such as singing, dancing, fortune telling, performing or offering any article for sale; or entering any private premises for the purpose of soliciting or receiving alms. The person found begging in a Certified Institution, he or she shall get detained for three years for first time and on conviction for the second time shall be ordered by the Court to be detained for a period of ten years.