Beef fest: IIT-Madras students seek expulsion of Sooraj attackers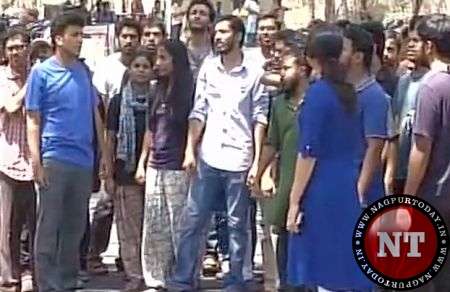 Chennai: A day after an IIT-Madras scholar was beaten up allegedly by right-wing students for participating in a beef fest on Sunday, students of the premiere institute took out a rally in support of R Sooraj and sought expulsion of the students involved in the attack. Pro-Left student organisations staged a similar protest outside the campus.
Sooraj sustained severe injuries in his right eye after he was assaulted by a group of eight right-wing students led by Manish Kumar Singh on Wednesday afternoon for attending the beef fest.
Police have registered FIR against Manish and seven others under four sections including rioting, wrongful restraint and criminal intimidation for assaulting Sooraj.
Curiously, the police also registered a FIR against Sooraj on the complaint from Manish who got himself admitted to a hospital under sections voluntarily causing hurt by dangerous weapons and wrongful restraint.