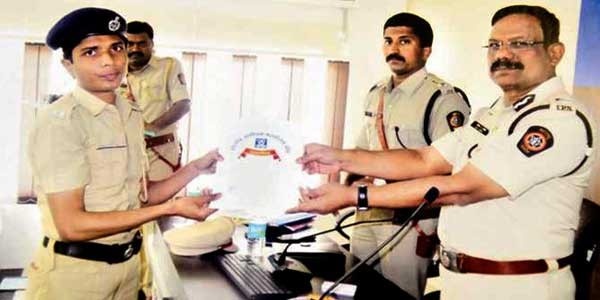 Mumbai: After months of deliberation over the issue of sex change application submitted by a 29-year-old woman police constable from Beed district, she would be eventually going under the knife at St George's Hospital in south Mumbai on Friday. The constable Lalita Salve, who prefers to be called Lalit, had met Chief Minister Devendra Fadnavis in March and sought the state government's permission to undergo the surgery. The government recently gave its nod for it. Salve received a letter from the state home department on Sunday allowing her to go on leave to undergo the surgery. After receiving the letter, she got herself admitted in the state-run St George's Hospital on Tuesday.
"Tests were performed on Salve, including an X-ray scan, ECG examination and blood tests, to know her medical fitness for the surgery. She is confident and feeling much better," Arjun Ujagare, her maternal uncle who travelled to Mumbai from Beed with her, said. "Plastic surgeon Dr Rajat Kapur and his team will perform the surgery," said a doctor at the hospital.
According to Dr Kapur, Salve's operation should not be called a sex reassignment surgery as Salve is already biologically a male. "Salve was born with small external genitalia that her parents mistook for a female's and brought the child up accordingly. Tests done in the past few years have revealed Salve was genetically male with XY sex chromosome," he said.
Dr Kapur has been treating Salve for over a year when he was posted in J J Hospital in Byculla. As he is now posted in St George's Hospital, Salve decided to get admitted there. Salve had met Chief Minister Devendra Fadnavis in March for permission to undergo the surgery. She had also sent an application to the state Director General of Police (DGP), requesting permission. She had earlier approached the state police department to allow her leave for the operation. The department had then turned down her plea as the eligibility criteria for men and women constables are different, including height and weight.
In November last year, she had moved the Bombay High Court seeking a direction to the DGP to grant her leave for the surgery. However, the high court had directed her to approach the Maharashtra Administrative Tribunal since it was a service matter. She had also consulted doctors at the state-run J J hospital in Mumbai for the sex reassignment surgery.
Salve, born in June 1988, noticed changes in her body about four years ago and underwent medical tests, which confirmed the presence of Y chromosome in her body, according to her petition filed in the high court. While men have X and Y sex chromosomes, women have two X chromosomes.