Nagpur: India has a great heritage of several thousand years filled with immense knowledge, skills. This is acknowledged by several international experts and scientists but still a lot more is to be explored. With this objective IGNOU Regional Centre Nagpur and Hislop College conducted a One Day National Conference on "Indian Heritage in Chemistry" at Hislop College. It attracted attention of several researchers and students from various fields like pure chemistry, agriculture, ayurveda and also common people. There were 375 delegates and 150 abstracts for the Conference.
Prof. Gautam R. Desiraju an internationally reputed Chemistry Professor from Indian Institute of Science Bangalore has inaugurated the Conference. Dr. Prashant Holay, President Vigyan Bharati, Vidarbha Region gave key note address.
In the Inaugural session Dr. P. Sivaswaroop, Regional Director IGNOU explained the objectives of the Conference and said Prof. P. C. Ray published a book on Hindu Chemistry in 1902 and after that there was slow progress in this subject. This conference aims at providing a common platform for both modern and oriental scientists to discuss and further research. Prof. Gautam Desiraju in his extensive inaugural address gave an innovative presentation on "Why Science?". He took the life stories of 12 scientists starting from Galileo to C. V. Raman. He explained the problems faced by them and their achievements and concluded each scientist story with the lessons to be learnt and the qualities to be imbibed by students and scientists. He explained how Indigo molecule was synthesized by Baeyer in Germany and how this single reaction impacted the British rule in India. Prof. Desiraju emphasized that everyone should have confidence, commitment and ready to do hard work. Also one should be intelligent, intuitive and able to dream behind his/her hard work. Prof. Holay referred extensively the ancient scripts and quoted the chemistry contained therein.
It was followed by oral paper presentations and poster presentations by the delegates. They include from different places like New Delhi, Bilaspur, Pune, Nagpur, Wardha, Amravati etc. The presentations were judged by Senior Professors like Prof. L. J. Paliwal, Dr. Itankar etc.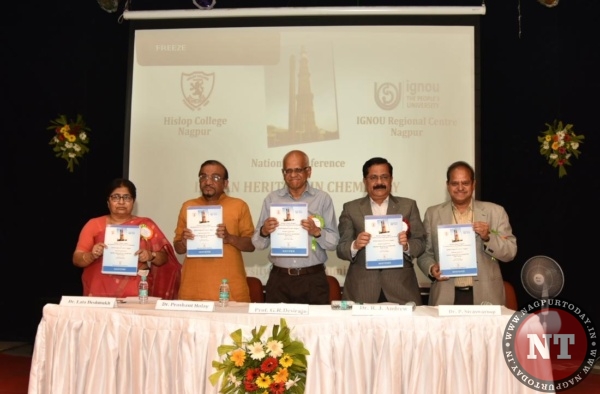 An enlightening panel discussion was held by experts from different fields. Dr. S. V. Tatwawadi, Former Professor of Banaras Hindu University chaired the panel discussion. Dr. M. Bhoyar from Govt. Ayurvedic College, Nagpur explained the Chemistry in Ayurveda. Dr. S. Bhoyar, Agriculture College, Nagpur explained the Chemistry in the Agriculture especially in the traditional method. Dr. (Mrs.) P. Shastri, Former Professor of Food Technology, LIT spoke on Chemistry in traditional food items. Dr. Dilip Peshwe from VNIT discussed on Metallurgy in ancient India. He said Chemistry is inherent in every metallurgical activity.
The valedictory session was chaired by Dr. (Ms.) Deepti Christian, Principal, Hislop College, Dr. P. Sivaswaroop gave report of the conference. 1st and 2nd prizes were given to oral and poster presentations. Dr. Shubhajit Haldar, Conference Secretary proposed vote of thanks. The Conference was professionally organized with the joint efforts of Hislop College and IGNOU Regional Centre Nagpur.