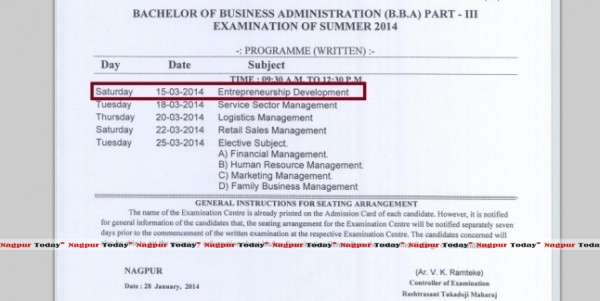 Nagpur News.
What does a student do when two  examinations are on the same day? He or she has to choose between the two. While the date of one exam was declared nearly a month ago, the date of another exam is declared just a few days ago.
The date of the final examinations of the students of Bachelor of Business Administration (BBA) final year falls on the same date with the Common Entrance Test (CET) exams conducted by the Directorate of Technical Education (DTE) on March 15. The students of BBA (Final) who are aspiring  to  appear for both the examination are in a dilemma, since the date of the exams of BBA and CET are clashing on the same date.
On March 15, 2014 BBA final year students have to appear for the Entrepreneurship Development paper. On the same date the CET exams for admission into various MBA colleges in Maharashtra will also be held.
DTE had issued the examination notification in the month of December 2013 itself. Whereas, the RTMNU approved the BBA examination schedule on January 28. The time table for the same was put on NU website on February 7, without keeping in mind that both the exams will be clashing on the same day.
There are number of students who have filled up the forms for appearing in the CET exam. Now, they are in a fix and don't know what to do. Students BBA Final have demanded to shift the date of the university exam, so that they can appear for the CET exams.