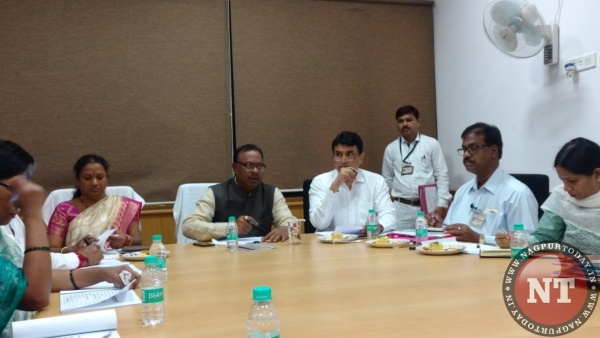 Nagpur: Pushing the development works ahead, the Guardian Minister Chandrashekhar Bawankule directed the Zilla Parishad authorities to spend all the funds received from District Planning Committee as well as various government departments on development projects before December 30, 2018. "Speed up the projects and reach the development works to common people," the Minister said.
Bawankule reviewed various development works including roads in rural areas, water supply, irrigation, education and overall development works department wise. Present in the meeting include Zilla Parishad President Neesha Savarkar, CEO Sanjay Yadav, Vice President Sharad Donekar, Chairpersons Upesh Chavan, Pushpa Waghade, Asha Gaekwad, Additional CEO Ankush Kedar and other officials.
The Minister further directed the ZP authorities to ensure speedy completion of development works by clearing concerned files within 24 hours. "Fix the responsibility for unnecessary delays in development works and initiate action against guilty," he said.
"Time-bound planning has been done for implementing various development works being carried out by different Zilla Parishad departments. Plans are afoot to create 130 green belts under tree plantation drive through Self Help Groups. Out of these green belts, 47 green belts have been earmarked for speedy implementation. Tree plantation is being done the stretch of 4000 km along National and State Highways. This works is being done through Self Help Groups," said Bawankule.
100 houses being constructed daily under PMGAY:
Bawankule further said that 100 houses are being constructed daily under Pradhan Mantri Gramin Awaas Yojana as all the impending difficulties have been overcome. Till now, 1200 houses have been constructed. Target of constructing houses for all is being achieved by removing all the difficulties. Plan has been prepared to construct 95,000 houses under Group D in the district.
"The Chief Minister Devendra Fadnavis has given approval for additional works in the district under Mukhyamantri Gramsadak Yojana. Plans are afoot to build around 600 km of roads. To ensure completion of road works within stipulated time, the ZP CEO Sanjay Yadav and officials of Pradhanmantri Gramsadak Yojana should convene regular meetings," Bawankule directed.
e-Service Book for ZP employees:
In a first, officers and employees of Nagpur Zilla Parishad are being provided with e-Service Book, an all-important document containing minute details of service from appointment to retirement. Now, the officers and employees can easily peruse all the notings in their service book.
Nagpur Zilla Parishad has become the first Zilla Parishad in the state to activate e-Service Book under Manav Sampada. Nagpur ZP has been selected on trial basis and 4000 employees of Class 3 and 4 are being provided with e-service book in first phase. The employees can see their service record in their mobiles too from October 2, said CEO Sanjay Yadav.
The General Administration Department of Zilla Parishad will be maintaining service records of all teachers as well as other employees under e-Service Book. Total 8500 employees are working in Zilla Parishad.