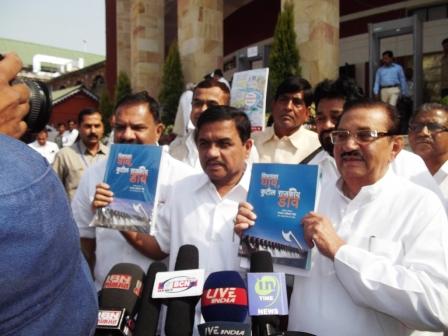 Nagpur News: The winter session of Maharashtra State Assembly is witnessing the release of paper after paper as the government and the opposition seem to have locked horns over the Vidarbha Irrigation Scam.
After the White Paper officially released by the government and the Black Paper released in criticism by the Opposition, the NCP today came up with  "Satyamev Jayate Patrika", which they claim brings all allegations levied against the party to dust. The NCP also claims that the paper contains all the information regarding transactions and accounts related to the irrigation project.
The new publication was released by NCP regional head Madhukar Pichad and Home Minister RR Patil. Patil stated that there are mistakes numbers mentioned in the White Paper submitted by the government, and also pointed out printing mistakes in the paper. At the same time, he also accused the opposition of being ignorant of the geography of the state, and of making allegations that have no basis.  The NCP has given substantive replies to individual questions rased by the opposition and backed them with evidence in "Satyamev Jayate Patrika". Opposition leaders were visibly baffled when they were given copies of the paper, and responded with verbal allegations in the House.
Even before the paper was released by the NCP, opposition leader Eknath Khadse released a ublication critiquing it, titled "Asatyamev Jayate Patrika".
No constructive work has been done in the House in the past three days, due to the hue and cry being raised over the irrigation scam and SIT demands by the opposition.