Bar Association members disrupt interaction with Anjali Damania; create unruly scenes

Nagpur News.
The District Bar Association's initiative to call upon Lok Sabha candidates of different political parties here on an interactive platform took an ugly turn on Saturday when a couple of members entered into a heated exchange with Aam Aadmi Party candidate Anjali Damania who was the guest of the day. The initiative which was aimed at sharing various issues of lawyers and have the poll candidates air their views and strategies to resolve it, went for a toss amidst unruly members storming the dais and creating commotion that led the DBA's superiors calling off the event mid-way. Some of the members were enraged over Damania's remarks on BJP's Prime Ministerial candidate Narendra Modi.
Interestingly, it was the members only who insisted Damania to share her take on Modi as non-corrupt leader, turning the interaction on lawyers' problems into political discussion. Later the members itself objected to Damania talking politics.
On Friday, Congress candidate Vilas Muttemwar was called on this forum, and all went smooth and peaceful. It was Damania's turn on Saturday while BSP candidate Dr. Mohan Gaikwad and BJP's Nitin Gadkari were to be invited on March 2 and March 3, respectively. However with the disturbance, the future programme could take the beating, sources informed.
During interaction with DBA members on Saturday, Damania initially made it a point to stick to the issues related to lawyers and avoid any political discussion. However, some of the curious members, 8-10 in numbers, jumped the topic and asked her that if she was there to oppose corruption then why she was opposing Modi? On this she replied Modi was not all clean and still held allegations of corruption regarding Adani Mining on him. She said even some cases were pending against Modi in this regard.
This enraged some of the lawyers, understood to be the supporters of Modi. Interrupting Damania, the irked lawyers asked her not to comment anything against Modi or level any charges on him unless it was proved in the court of law. The members even lashed out on Damania saying that this was not the political forum and she should not talk politics.
When Damania was about to clarify her stand, the members deliberately stood up from their seats and started shouting. As they went berserk displaying unruly behavior, the President of District Bar Association Advocate Sudeep Jaiswal had no choice but to intervene and announce the end of the programme.
Talking to Nagpur Today, Jaiswal said whatever happened was never expected. "This is the shameful episode in the history of Nagpur District Bar Association," he said.
However Jaiswal did not utter any word on initiating disciplinary action against the commotion makers. Other members who condemned the incident were Vijay Agrawal, Manoj Sable and Kamal Pramod among others.
No question for Muttemwar!
Surprisingly, the same members who disrupted Damania's programme did not put a single query when asked to raise questions during interaction with Congress candidate Vilas Muttemwar. Sources informed that all through the interaction with Muttemwar, the lawyers only listened to the political stuff and did not raise a single question regarding their problems which ranges from parking woes to improper seating arrangements.
'You're an outsider Ms Damania'
Sources informed that the bar association members were all set to corner Damania and hence asked her discomforting questions which were out of context in regard to the nature of event. One of the lawyers even questioned her that she being an outsider would not understand their issues, to which Damania patiently replied that before jumping into the poll fray from here, she had done thorough research on various issues concerning Nagpur and Vidarbha. She said that she had even chalked out plan for bringing out all round development in the region. However, the members were not willing to buy her theory and fired another set of question regarding Modi, which triggered the storm.
Damania maintains her cool
It is interesting to note that Damania appeared calm and composed throughout the interaction. Despite one of the members went up to her and beat the dais showing high amount of disrespect towards her, she maintained her cool and appeared to be in full control of her senses.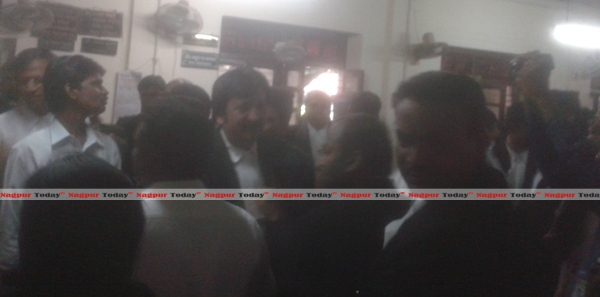 .. Puja Singh