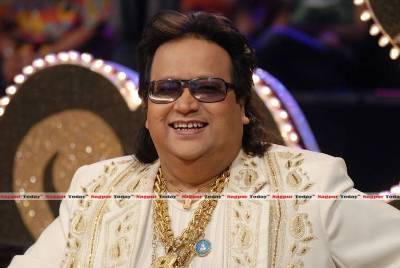 BJP's Prime Ministerial candidate Narendra Modi is drawing quite an attraction from who's who of Indian film industry. After catching media's fancy with his much hyped meet with Bollywood's Dabang Salman Khan, Modi hogged limelight again with another legendary celebrity entering into BJP's aura, this time as the party's new member. And the latest personality to be bitten by the Modi bug is none other than the Bollywood's very own veteran music director Bappi Lahiri, who delivered phenomenal music to the Indian film industry right from 'Disco Dancer' to 'The Dirty Picture's' 'Ooo lala…' number.
Bappi Lahiri took the membership oath for the BJP in presence of party's  Narendra Modi.
Lahiri, the flamboyant music director known for wearing heavy gold ornaments, cheered for BJP's Prime Ministerial candidate Narendra Modi and insisted there is a wave in favour of the right-wing party ahead of the Lok Sabha elections.
Incidentally, Lahiri had campaigned for Congress in 2004. Breaking into a song, Lahiri said, "Rajnathji's dream will come true. Modi will create some magic." He also paid respect to BJP veteran leaders Atal Bihari Vajpayee, L K Advani and party's founders Shyama Prasad Mookerjee and Deen Dayal Upadhyaya.
When asked why he has joined BJP when he had campaigned for Congress in the past, Lahiri said, "Ten years back, there was a wave in their (Congress) favour. The wave has now changed. The wave is now here."