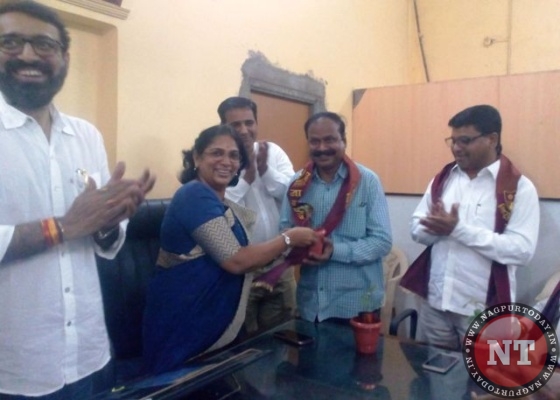 Nagpur: A day after Bharatiya Janata Party Corporator Virendra alias Vicky Kukreja was formally elected as Chairman of NMC's Standing Committee, Chairpersons and Deputy Chairpersons of various subject committees were elected unanimously on Tuesday. Those elected among others include Sanjay Bangale, Manoj Chafle, Dilip Dive, Nagesh Sahare who will be Chairmen of Estates, Medical, Education and Sports Committees respectively for continuous second term. Former Chairman of Standing Committee Sandeep Jadhav will head Tax Assessment Committee.
Following are the Subject Committees, Chairpersons and members:
Estates, Electricity and Projects Committee: Chairman Sanjay Bangale. Members: Bhagwan Mendhe, Kishore Wankhede, Sarita Kaore, Rajkumar Shahu, Pallavi Shamkule, Kamalesh Chaudhary, Purshottam Hazare and Jitendra Ghodeswar.
Medical Services and Health Committee Chairman: Manoj Chafle. Members: Vijay Chutele, Vijay Kourti, Vishakha Bante, Yerwar, Jyoti Bhisikar, Gargi Chopra, Dinesh Yadav and Vandana Chandekar.
Law Committee: Chairman Adv Dharmapal Meshram. Members: Sangita Girhe, Jaishree Wadibhasme, Harish Bagde, Gopichand Kumre, Sangita Chakole, Sandeep Sahare, Julfekar Bhutto, and Mohd Jamal.
Education Committee: Chairman Dilip Dive. Members: Bharti Bunde, Rita Mule, Swati Akhatkar, Rajendra Sonkusre, Pramila Mathrani, Manoj Gawande, Nitin Sathavane and Mohd Ibrahim.
Slums Rehabilitation and Housing Committee: Chairman Abhay Gotekar. Members: Usha Pallot, Niranjana Patil, Lata Katgaye, Rutika Meshram, Durga Hattithele, Neha Nikose, Parasram Manvatkar, and Narendra Walde.
Sports Committee: Chairman Nagesh Sahare. Members: Pramod Tabhane, Sarla Nayak,Kanta Rarokar, Sanjay Chavre, Neha Waghmare, Darshani Dhawad, Sakshi Raut, and Viranka Bhide.
Women and Child Welfare Committee: Chairperson Pragati Patil. Members: Vishakha Mohod, Divya Ghurde, Sangita Kaore, Manisha Atkare, Nasim Bano, Jeeshan Irfan, Rashmi Dhurve, and Vaishali Narnavre.
Water Works Committee: Chairman Vijay Jhalke. Members: Pradeep Pohane, Feepak Chaudhary, Gopichand Kumre, Shraddha Pathak, Jaishree Rarokar, Harish Gwalvanshi, Pranita Shahane and Sanjay Burrewar.
Tax Collection and Assessment Committee: Chairman Sandeep Jadhav. Members: Sunil Agrawal, Yashashri Nandanwar, Minakshi Telgote, Madhuri Thakre, Sanjay Balpande, Nitin Gwalvanshi, Bhavna Lonare and Mangala Lanjrwar.
Fire and Emergency Services Committee: Chairman Lahukumar Behete. Members: Varsha Thakre, Nishant Gandhi, Vandana Bhure, Vanita Dandekar, Anil Gendre, Bunty Shelke, Asha Uike and Mamata Sahare.