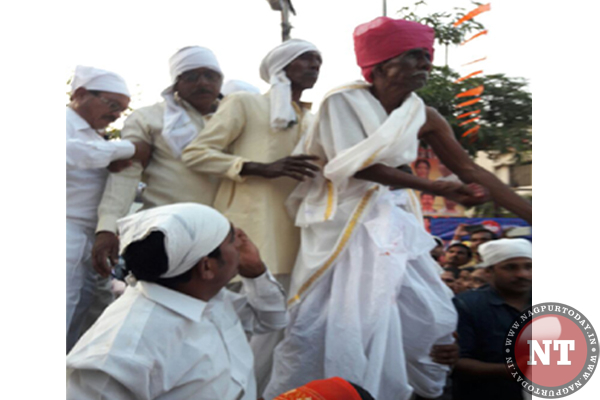 Nagpur(Wadi Ambazari): From seven generations the Gorle family of Lava village on Khadgaon road has been celebrating the Panchami of Holi in a unique way. This year to it was celebrated on Tuesday 6 March. The carts are pulled by an unknown force without the bullocks. People from various places gather here to see the celebration of Panchami of Holi. This celebration has been going on from 200 years. Madhavrao Gorale, 80, of the 7th generation of the Gorale family is taking the tradition forward. Madhavrao Gorele keeps a fast on this day.
With sword in his hand at 4 o'clock in the evening, along with his followers, after performing the puja in Sonaba Baba temple here he sacrifices a goat. Soon after this Gorale is made to sleep on a tall platform. After sometime Gorale gets up and throws milk, rice and curd in front of the carts with a sword in his hand and then gets on the first cart. Soon the other followers, about 40 to 60 in number get on the other carts taking. Gorle waves the sword in air and yells loudly 'Hokare Ho- -Hokare Ho'. Seven to eight devotees lift the front bar of the cart and soon the row of carts starts moving fast. The carts complete their run from Lava to Sonaba nagar's age old temple. People gather in hoardes to watch the carts move with a speed.
To make the programme successful the celebration committee office bearers Ganesh Patel, Hiranwar, Panchayat Samiti Nagpur, Deputy Chairman, Sujit Tanwar, Sarpanch, Jotsana Nitinaware, Up-sarpanch Mahesh Chokhandre, former Sarpanch Robin Shelare, Sheshrao Gorele, Moreshwar Gorele, Dattu Paithankar, Gram Panchayat Lava, Pandurang Borkar, Gajanan Gorele, Sheshrao Gorele, Rajan Hiranwar, Kamlesh Hiranwar, Moreshwar Varathi, Prakash Dave, India Nitinwar, Bandu Dhon, Manoj Trabhane, Dr Umesh Fulzele, Mangesh Chokhandre, Nandlal Nitinwar, Ramkrishna Dhurve, Ashok Agarkar, Vitthal Agarkar, Nitin Gorele, Umesh Pohankar, Jija Dhurve, and others Siddhartha Dhongde, Rural Development Officer Development lade worked hard.
Andhshrada Nirmulan Samiti's reaction
Andhshrada Nirmulan Samiti Nagpur informed through a release that during this festival, the carts do not move without bullocks, they moved by human force. It is not a miracle, but is based on the Newton's law of force. If the celebration committee proves it is a miracle then they would be awarded Rs 25 lakhs announced, the Andhshrada Nirmulan Samiti's Chief Umesh Babu Choubey, Harish Deshmukh, Bablu Bahadure Uttam Sulke, Vijay Mokashi, Sunil Wanjari, M V Pardhi.