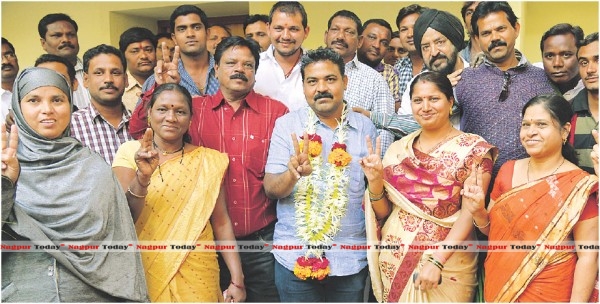 Nagpur News.
The general body meeting of the Nagpur Municipal Corporation was held on February 18 at Town Hall, Mahal, Nagpur. At the time mayor asked Nagpur Vikas Aghadi, Purogami Lokshahi Aghadi and National Congress to provide candidates for 8 vacant posts of standing committee and also asked to provide chief.  The previous standing committee tenure is to expire on March 1, 2014. Nagpur Vikas Aghadi's leader, Pravin Datke, provided names of Balya Borkar, Vidya Kanhere, Sangeeta Ghire, Ishrat Nahid Mohammad and Jalil Ansari.
Purogami Lokshahi Aghadi's leader Vikas Thakre gave the names of Deva Usre, Shindhutai Uke and Ravindra kaur Bawa. National Congress leader was not present in the house. So the quota of their names could not be finalised. That name will be declared in the next general body meeting.
While talking to the reporters after the general body meeting Mayor Anil Sole and Leader of the ruling party Pravin Datke informed that BJP's parliamentary committee has decided that they will demand the resignations of their present standing committee members and will give opportunity to the fresh candidates. The candidates who will get chance to be on the standing committee by this decision are Sushma Sanjay Choudhari, Pallavi Shyamkule,Bhavana Dhakne and two more candidates.
As per the decision of parliamentary committee Balya Borkar will be standing committee chief. For elevating Balya Borkar to the post of chief of standing committee, Pravin Datke, Sandeep Joshi and Krushna Khopde have played a prominent role.
It is learnt that the Lok Sabha poll code of conduct will come into force in the first week of March and it is during this period that the standing committee chief will be elected. If that is the scenario and if Central Election Commission interferes the election for the post of chief of standing committee can be avoided.
The candidate who is left behind in the fray of chief of standing committee, Ramesh Shingare and his close aides have disclosed that the tenure of this standing committee will of 7 months only. The reason being the Lok Sabha, MLC and Vidhan Sabha polls. Owing to these three polls it is likely that the expenditure will be more than the income. This exactly is the reason behind candidates like Ramesh Shingare have not shown any interest in the standing committee election. But in the next round Ramesh Shingare's name is again likely to make rounds.