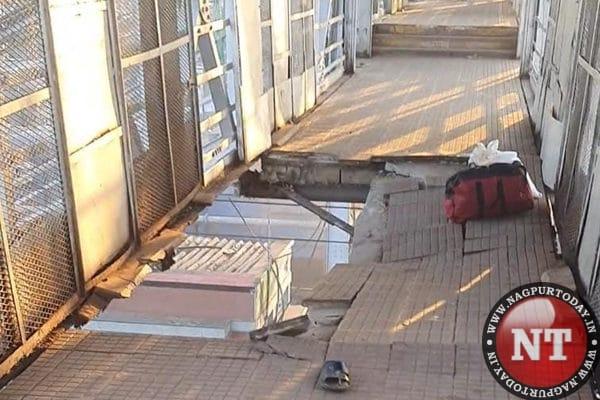 Nagpur: The Central Railway authorities suspended two officers in the aftermath of the Ballarshah railway station Foot Overbridge (FoB) slab crash that claimed the life of a woman and injured 22 others on Tuesday. The action comes a day after the Central Railway announced a senior administrative grade-level inquiry into the incident. Reports, however, claimed action has been taken against two more officers, taking the number of suspensions to four.
According to reports, Central Railway, the suspended officers include G G Rajurkar, Inspector of Works (IoW) at Ballarshah, and Vinaykumar Shrivastava, who was earlier IoW at Ballarshah when structural audit was conducted and is currently posted at Amla.
With local politicians coming into action, the railway administration rectified the FoB and commissioned it for travellers in a record period of 48 hours. For the same BRI, Manmad, was roped in as they are the required expertise, unlike the local Engineering Department that is crippled due to lack of deep knowledge about steel structures and shortage of manpower.
Meanwhile, the railway hierarchy has expressed surprise at the pick and choose policy of administration which reacted to the incident of Ballarshah. In fact, the current IoW was posted to Ballarshah just three months back and in such a short period it's just impossible to know the work area, let alone assess fitness of railway structures. What is even more surprising is that the FoB was inspected by the Assistant Engineer (AEN) in the month of December, 2021, and certified its fitness, reports said.
The said AEN was later transferred and a new officer has come in his place also three months back. So, the question being asked in railway circles is that when AEN has issued a fitness certificate, what is left for IoW and in case some structural fault remains in the bridge they do not possess required expertise to assess the same. In fact, railway now needs to reassess its safety outlook as to steel and concrete bridges and ensure that the same is maintained and looked after by proper agency and in this case BRI, Manmad, fits the bill.