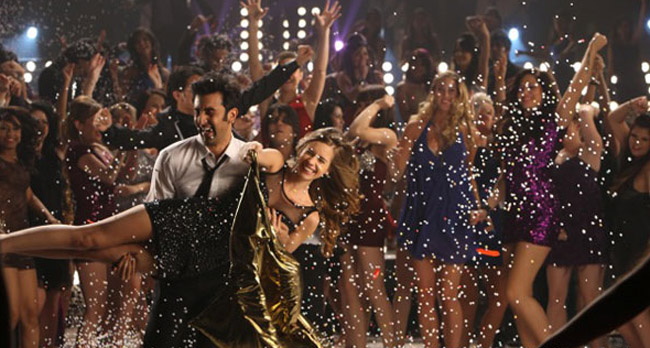 The latest song from Ayan Mukerji's upcoming romcom is a riot of colours, madness and some wild moves on the dance floor
Ranbir Kapoor, in every film, has showed us that he trumps on all counts, be it acting, dancing or looking plane gorgeous. And in this latest song from Ayan Mukerji's Yeh Jawaani Hai Deewani, he shows how one betters perfection.
The song titled Badtameez dil has Ranbir sporting a dapper suit and doing some real crazy antics on screen. Deepika Padukone, though looks as hot as ever, is more like a showpiece in the song that is all about Ranbir. And the craziness that Ranbir indulges in reminds us so much of his grand uncle – the late Shammi Kapoor and the madness that he made alive in the famous song Chahe koi mujhe… from the film Junglee. There is a scene in which Ranbir crawls atop a table and tosses everything out, and we couldn't help but notice right then the similarity between him and Shammi Kapoor.
The song has some super-quirky, fast-paced lyrics and Ranbir does a great job on the dance floor. The music by Pritam is catchy and fun and the lyrics is by Amitabh Bhattacharya. Check it out, Badtameez dil is sure to blow your mind!