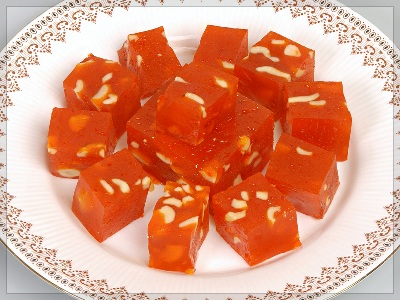 Almonds (Badam) are extensively used in Indian cooking even though they are little expensive. Few of our family's favorites are Badam milk, Badam rolls (mixed with cashew and pistachios), dry fruit ladoo, Kheer and Halwa. Almonds are often used for garnish, also makes a beautiful presentation.
Badami Halwa
Ingredients
• Corn flour – 1 cup
• Sugar – 2 cups
• Water – 2 cups
• Dalda or ghee – ½ cup
• Color(any) – 1/6 tsp
• Lemon juice – 1 tsp
• Badam – 4-5
Preparation
1. Dissolve corn flour in water and mix well.
2. Heat 2 tsp ghee and add above mixture and stir on low flame to avoid lumps.
3. Add sugar, color, lemon juice, badam pieces and ghee; stir continuously.
4. When the mixture becomes lump like consistencies pour it in greased thali and allow it to cool.
5. Cut into pieces.
6. Badami halwa is ready to serve.
Serves
2 Persons