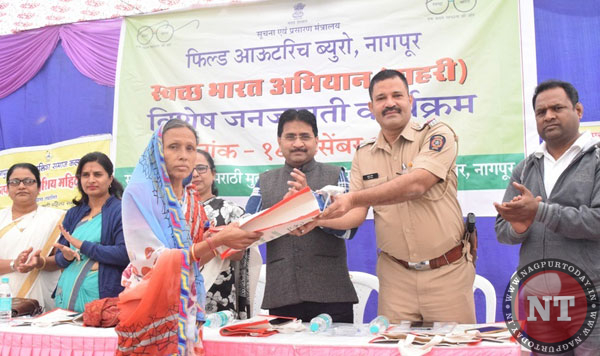 Nagpur: The Field Outreach Bureau (FOB), Govt. of India, Ministry of Information & Broadcasting, organized a rally and awareness programme under the banner of Special Outreach Programme on Swachh Bharat Abhiyan at NMC's Shantinagar Marathi Boys Higher Primary School in Satranjipura Zone No. 7.
The event was attended among others by Satranjipura Zone Chairperson Yashasvi Nandanwar, Assistant Commissioner Prakash Varade, Shantinagar Police Station's Police Inspector Mukhtar Sheikh, Zilla Parishad's Chaitali Deshmukh, Zonal officer Pramod Atram, School Inspector Kirti Ganvir, Headmistress of Shantinagar Marathi Boys Higher Primary School Yadav, Health Inspector Ravi Delikar and Field Outreach Bureau's Regional Field Publicity Officer Dr Manoj Sonone.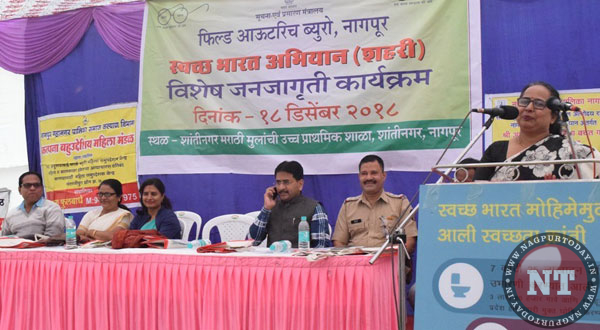 The rally and awareness programme was aimed at achieving the goal of total cleanliness in the country by October 2, 2019, through Prime Minister's Swachh Bharat Abhiyan. Such awareness programmes help in sending a message to the people about cleanliness, said Nandanwar.
Shantinagar Police Inspector Mukhtar Sheikh appealed citizens to keep premises of their houses clean as the cleanliness begins from self. Ravi Delikar provided guidance on waste management and stressed on segregation of wet and dry waste process.
The Field Publicity Officer Dr Manoj Snone while welcoming the participants informed the gathering about the main objectives of the programme as well as Swachhta Action Plan and said that Clean India Mission (Swachh Bharat Abhiyan) is to make India Clean.
On the occasion of the special outreach campaign, various contests such as essay contest, drawing, Rangoli contest were organised. The winners of the contests were given prizes at the hands of the guests.
The programme was started with a mass awareness rally and a mass social service (Swachhta Shramdaan). The rally was flagged off by Police Inspector Mukhtar Sheikh. Employees of Zone 7, students and teachers of NMC's schools were present in large numbers.