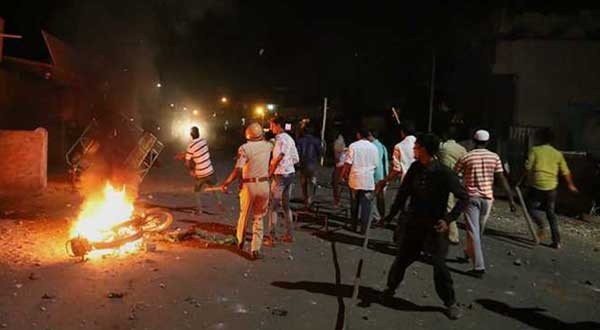 Mumbai: The riot in Aurangabad city last week appeared to be pre-planned and the result of simmering unrest over the civic body's drive against illegal water connections, a police report has said.
Two persons were killed in clashes in this central Maharashtra city on April 11 and 12.
Aurangabad police commissioner has submitted a report on the violence to the state Director General of Police, an official said here.
"There was a month-long unrest over the municipal corporation's crack-down on illegal water connections and some other civic issues in the area (where the violence started)," he said.
The special investigation team of city police found petrol bombs and balls of kerosene-soaked balls during searches, suggesting that the violence was pre-planned, he said.
Police also found stones, collected for hurling through catapults at police or rival groups, he said.
Over 50 persons have been arrested following the violence.
Laxminarayan Bakharia alias Lachchu Pahelwan, alleged mastermind of the violence, was held two days ago. Before that, Shiv Sena corporator Rajendra Janjal and All India Majlis-e-Ittehad-ul Muslimeen (AIMIM) corporator Feroz Khan were arrested.
The violence left a 65-year-old man and a 17-year-old boy dead and around 60 others, including a dozen policemen, injured. Several shops and vehicles were gutted.
Meanwhile, authorities have denied permission for the Sena's protest march through the city on Saturday for seeking "proper probe" of the violence, a police official said.​