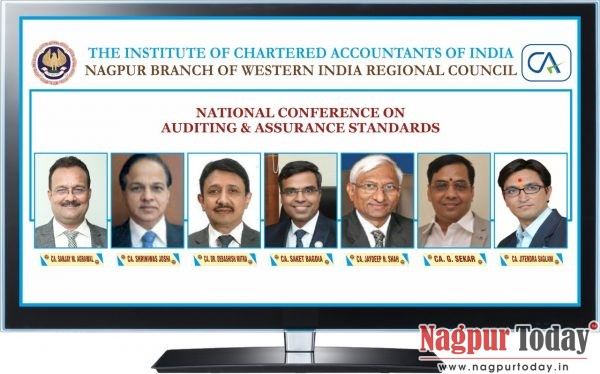 Every Chartered Accountant is expected to follow all auditing and assurance standards while finalizing audit of any entity. To make the members aware about these standards Nagpur Branch had hosted a National Conference on Auditing & Assurance Standards organized by AASB, ICAI.
Auditing & Assurance Standards should be embraced and learned by all CA professionals" said CA (Dr.) Debashis Mitra, Vice President, ICAI while speaking as Chief Guest at the National Conference. The highest standards of auditing of accounts of a business entity are required to be followed by every CA member in practice. That's the reason, auditing and assurance standards are said to be the heart of audit. "Auditing Standards are our protective Shield". Vice President urged all participants on the occasion that now is the time to "Learn, Unlearn & relearn" for achieving excellence. He stressed on audit quality front while explaining that 46 auditing & assurance standards have been converged with International Standards and thus our reporting is at par with International requirements. CA Debashis Mitra spoke about initiatives of AASB Committee regarding AQMM (Audit Quality Maturity Model), AQI (Audit Quality Indicators) and SQC (Standards for Quality Control) which act as self evaluating indicators to ensure that proper procedure has been followed while doing audit. Vice President, ICAI CA Debashis Mitra appreciated the efforts of Nagpur Branch under the Chairmanship of CA Saket Bagdia.
CA G. Sekar, Chairman of AASB explained about importance of Auditing standards and remarked that Auditing & Assurance standards are the spinal cord of our profession. These standards are now available in the form of audio download for members to listen as well as video lectures are available from expert speakers for reference by members. He concluded by using words of Swami Vivekananda "Awake, Arise, Achieve".
"The performance criteria for effective audit is followance of all auditing standards in true spirit" said CA Shriniwas Joshi, Vice Chairman of AASB. The quality of an audit is measured with the amount of application of auditing standards. These standards form the base for a transparent and fair audit, concluded CA Shriniwas Joshi.
"A Chartered Accountant cannot limit oneself", remarked CA Jaydeep Shah, Past President, ICAI. He appreciated the efforts of Auditing Assurance Standards Board (AASB) for releasing a lot of implementation guides for auditing and assurance standards to enable members to exercise prudence and caution while conducting audits. He congratulated CA Debashis Mitra for excellent initiatives of ICAI at centre.
"Updation of knowledge is very essential for every professional" quoted CA Saket Bagdia, Chairman of Nagpur Branch while acknowledging Committee on Auditing & Assurance Standards Board, ICAI for allotting this prestigious National Conference to Nagpur Branch. Knowledge is Power. It's not only the knowledge but more of its practice that creates wonders. For learning there is no age. A task well begun is half done. Chairman thanked CA (Dr) Debashis Mitra, Vice President, ICAI for his initiatives of creating professional excellence with commitment, value creation while embracing technology. He welcomed all the participants of this Conference from all over the country.
Effective and learned Speakers for the Auditing Standards topic were CA Shriniwas Joshi, Central Council Member from Mumbai, CA D. Premnath from Hyderabad, CA R. S. Balaji from Chennai, CA Chinnasamy Ganesan from Chennai, CA Khushroo Panthaky from Mumbai and experienced Panel Speakers comprising of CA Amarjit Chopra, Past President, ICAI, CA Aniket Talathi, Central Council Member from Ahmedabad & CA Ashutosh Joshi from Nagpur. All queries of members were effectively resolved by the Speakers & Panel Speakers.
The Sessions were coordinated by CA Jitendra Sagani, Vice Chairman, CA Akshay Gulhane, Treasurer and CA Deepak Jethwani. Formal vote of thanks was proposed by CA Sanjay M Agrawal, Secretary of Nagpur Branch. The participants were greatly benefitted by the deliberations of learned speakers.