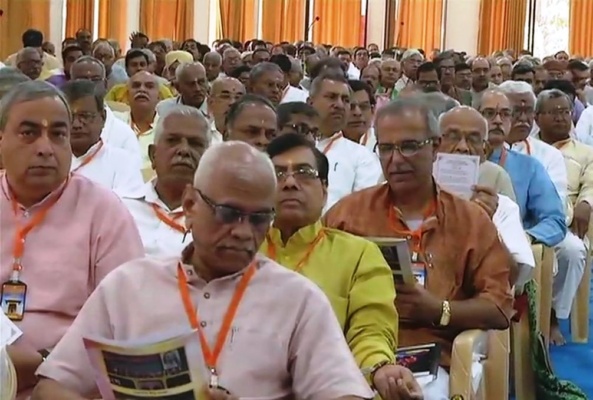 Nagpur: Pravin Togadia, Working President of Vishwa Hindu Parishad (VHP), who had recently claimed conspiracy to kill him, arrived in city on Friday to participate in the 3-day Akhil Bharatiya Pratinidhi Sabha (ABPS), the highest decision-making body of Rashtriya Swayamsevak Sangh (RSS). But surprisingly, Togadia who is always eager to answer questions from media maintained a 'radio silence' at the venue. Known for his attacking posture, the VHP chief tersely said that this programme is of RSS. "Whatever I want to say here will be conveyed to RSS functionaries only," Togadia said.
The 3-day Akhil Bharatiya Pratinidhi Sabha got off to a start on Friday at Reshimbagh-based Smruti Bhavan ground. Togadia and other representatives of RSS took part in the opening ceremony.
Even though Togadia maintained silence after reaching 'Sangh Bhumi' but indications are that he will put up his side strongly in the Pratinidhi Sabha. Apart from activities of VHP, Togadia is likely to give vent to the problems being faced in the works of Hindutva agenda. All 35 organisations of RSS are expected to deliberate on strengthening of the organisation.
In the recent past, the 'sulking' Togadia had fired salvos after salvos on the Central Government. A year back during VHP's national conference in Nagpur, he had launched a scathing attack on Modi Government on the issue of Ram Mandir. Togadia had even said that VHP does not care of any government on any issue. Mandir will be built at any cost. This attacking posture of Togadia led to BJP distancing itself from him. Recently, after maintaining a low profile, Togadia suddenly claimed threat to his life in an "encounter" by intelligence agencies. However, even after such a sensational claim, Togadia found himself 'alone' as no other bigwig rallied behind him. But now he has found a 'good' platform in Akhil Bharatiya Pratinidhi Sabha and he is likely to take full advantage of this platform to vent his ire.
Amit Shah skips opening ceremony:
It was expected that BJP President Amit Shah would participate at the inaugural programme of Pratinidhi Sabha. But he did not come. The ABPS chooses Sarkaryawah of RSS after every three years, and hence this year's meeting has got a special significance. Around 1,500 important office-bearers of RSS and its affiliated organisations from across the country are participating in the meeting in various sessions.