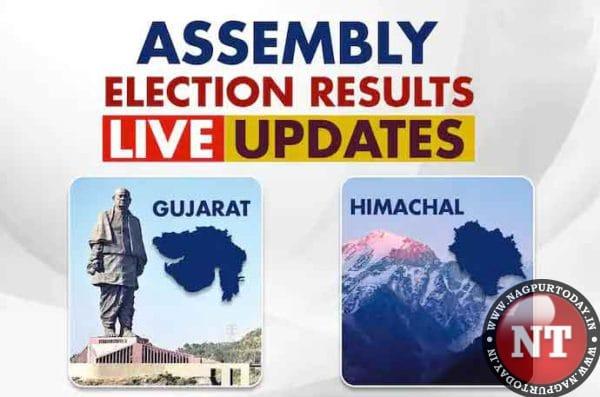 Assembly Election Result 2022 LIVE: Good morning, readers! Assembly Election Result 2022 blog for Gujarat and Himachal Pradesh. After more than two months of the long-drawn election process, the counting of votes in the two states begun. While the trends are expected to emerge in an hour or so, a final picture for both Gujarat and Himachal is likely to be clear by evening. While most of the exit polls have predicted a clear victory for the Bharatiya Janata Party (BJP) in Gujarat and Himachal, it would be interesting to see what voters of these states have decided for the next 5 years since this time the BJP bastion witnessed a three-cornered battle with Aam Aadmi Party (AAP) entering the poll arena.
---
CM Jairam Thakur retains Seraj Assembly Constituency. In the last Assembly election in 2017, Jai Ram Thakur defeated Chet Ram by 11254 votes. Jai Ram Thakur has been winning this seat over the last four times and has made Seraj his conventional seat.
---
No neck-to-neck fight, we're heading towards an absolute majority & going to give a stable govt. No Operation Keechad will work & neither will we allow it, said Congress leader Pawan Khera.
---
Party is leading on 35 seats here which is the majority mark.
---
BJP heading towards a landslide victory in Gujarat with the party leading on 149 of the 182 seats. In Himachal, Congress leads on 35 seats – the majority mark.
---
AAP CM candidate Isudan Gadhvi leading from Khambhalia constituency with a total of 18,998 votes so far, counting continues.
---
BJP leading on 152 of the 182 seats, as per the official EC trends. Congress -18; AAP – 7; Others -5
---
Congress leads on 35 seats – the majority mark – in Himachal. Counting continues.
---
Latest trends show BJP leading in 142 seats in Gujarat, as per ECI. Congress leading in 20 seats and Aam Aadmi Party in 7. Counting underway.
---
BJP candidate from Morbi, Kantilal Amrutia leads with a total of 10,156 votes. He had saved several people's lives during the Morbi bridge collapse in October.
---
BJP leads with 30 seats in Himachal Pradesh, Congress trails with 28 seats
---
Congress headed for its worst-ever performance in Gujarat. BJP set to retain power for 7th consecutive term. Counting of votes underway.
---