Access Consciousness is a simple set of tools, techniques and philosophies that allow you to create dynamic change in every area of your life, with your body and with yourself. Access Consciousness provides you with step-by-step ways to become totally aware and begin to function as the conscious being you really are. The Nagpur Today scribe Neha Ghanshani held a talk with Kanwal Basur, the facilitator from Chandigarh face to face.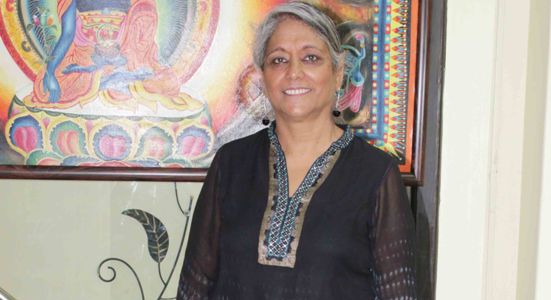 Nagpur Today: Please tell us something about yourself & how you stepped into this profession?
KANWAL BASUR : I am basically from Chandigarh.  The reason why I am in this profession is because my  cousin is from Australia and he did a class in this system with some facilitator. I saw a major change in him and his aura. He is a Major General . So he invited me for the classes.  Even I attended class of this entity clearing in Mumbai and since then it was no looking back. It changed my life fully and I am 64 now.
Nagpur Today: What is this Access Bar all about ?
KANWAL BASUR: Access Bars are the entry level into Access Consciousness. Access Consciousness is a simple set of tools, Techniques and philosophies for living consciously and with awareness. Actually  there are 32 points on your head which, when  gently touched, effortlessly and easily release anything that doesn't allow you to receive?
Nagpur Today: What are the benefits of an Access Bar session?
KANWAL BASUR: Each session can  release 5000 to 10,000 years of limitations in the area of your life that corresponds with the specific bar being touched.  The Bars have assisted thousands of people change aspects  of their body and their life including sleep, health, money, sex and  relationships, anxiety, stress and so much more.
Nagpur Today: What sorts of issues can help this bar?
KANWAL BASUR: This is an incredibly nurturing and relaxing process, undoing limitation in all aspects of your life that you are willing to change!
Nagpur Today: For how long this bar session is?
KANWAL BASUR: There is no standard time for running bars. The facilitator will follow the energy and deliver only what you are happy to receive.
Nagpur Today: Will it be fine to discuss and give an example of client case and how will it go?
KANWAL BASUR: You can see best example sitting next to you. I was having an  eye issue and this changed my life completely.
Nagpur Today: Does it limit any age group?
KANWAL BASUR: No. It's not at all limits, any age group. In fact, yes,  Kids are always welcome in every class offered by Access. In fact children in the age of 15 come for free for all classes world  wide.
..Neha Ghanshani