Nagpur : 'Main Hoon Asha!' Asha means hope! Asha means energy! Asha means enthusiasm! Asha means romance!
As the name indicates, a 85 years young girl, infused hope, energy and enthusiasm in the audience present at Divisional Sports Complex premises on Sunday evening. The environment got charged up with energy when the audience joined the legend by singing, dancing, laughing, clapping and enjoying each moment with joy, pleasure and satisfaction.
Asha Bhosle took the stage with her own style. "Aap Jaise Meherban, Kadardan Yaha Hai, Isliye Hum Jaise Kalakar Jinda Hai," said Asha Bhosle and started singing Aaiye meherbaan baithiye jaane jaan;Shauk se liijiyegi ishq ki imthihaan, the chart-buster from 1958-released film 'Hawara Bridge'. In no time, senior citizens among the audience joined her in chorus. They could not stop themselves from tapping their feet to the beautiful rendition.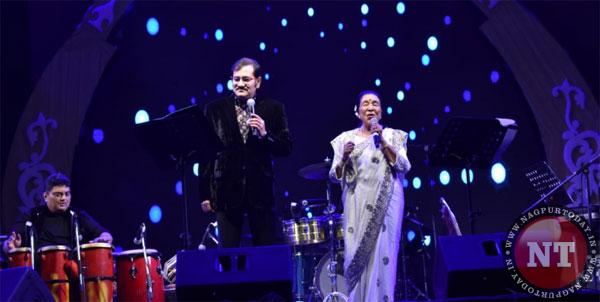 'Main Hoon Asha', the concert of legendary singer Padma Bhushan Asha Bhosle along with Sudesh Bhosale, and her grandson Chaitanya alias Chintu Bhosle, added life to the citizens of Nagpur which was once a capital of Bhonsale.
The concert started with Dilbar Mere Kab Tak Muze… a song from 'Satte Pe Satta' energetically presented by Sudesh Bhosale and created an environment of joy.
Asha entered and started Ye Mera Dil, Pyar Ka Diwana…, from movie 'Don', with her romantic style and made the connoisseurs realise that even at the age of 85, if one decides, one could successfully lead a romantic life.
"Sachin Dev Burman was recording a song of Kishorda and I was sitting on a stool besides him. Kishorda asked Sachinda, why he had not added a voice of a lady singer in the song. Sachinda then called me and asked to support Kishorda with 'La La La'. The song was very hit in those
days," said Asha while sharing an incident when she was very young and sitting with Kishore Kumar at Bombay Studio in Malad.
Continuing with this, Sudesh Bhosale and Asha Bhosale presented a duet O Nigahe Masatana, Dekh Sama Hai Suhana from the film 'Paying Guest' filmed on Dev Anand and Nutan in 1957. The audience was taken down the memory lane by Asha and Sudesh with their overwhelming hearts. Asha summed up her entire life saying, "In Palko Ke Piche To Aasu Dhalakte Hai, Aur Duniya Samazti Hain, Paimane Zalakte Hai." This made all to think about their own lives.
Then came In Aakho Ki Masti Mein, Mastane Hazaron Hai, the signature ghazal from movie 'Umrao Jaan'. Recalling a period of Hindi cinema when it was not technologically advanced and singers used to commit some mistakes during recording, Asha admitted to have committed a mistake while singing a duet with Kishore Kumar. Sudesh Bhosale and Asha Bhosale presented the same duet, 'Piya Piya Piya Mora Jiya Pukare…' from film 'Baap Re Baap'.
The duo continued with a romantic song Ek Mein Aur Ek Tu… from 'Khel Khel Mein'. The song made youths dance while some could not stop themselves from whistling.
The audience burst into laughter when Sudesh Bhosale shared a couplet, "Yaa Ilahi Te Re Darbar Mein, Fariyaad Karte Hain; Un Hasinao Ko Maat Paida Kar Jo Hame Barbaad Karti Hai." Immediately after, he started singing, 'Ye Jo Mohabbat Hai, Ye Unka Hai Kaam'.