As city celebrates independence, freedom remains far from slum children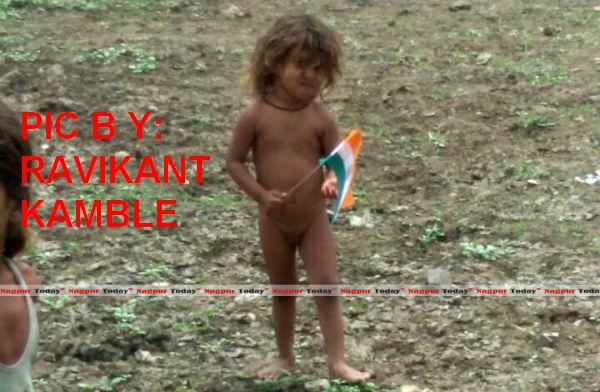 Nagpur News.
A look at city happenings on Friday might have given you a feel of perfect independence day atmosphere around. People flooded out like anything, in groups and packed in the battery of bikers flaunting flags, hitting the streets, dropping in at the malls, multiplexes and eatouts to let lose their expression of freedom. As the citizens thronged these places, splurging in abundance, filling their stomach with all the delicacies available and picking up the best piece to adorn their wardrobes, the other side of the picture on the city scapes was not so pleasant. Everyone from the privileged lot of the society, be it children or adult, old or youth, had their share of independence, day in and day out. But there were many who had nothing that could show their side of liberty. No food, no shelter, no clothing except a piece of tricolor in their hands.
This was what one of our lensmen discovered while trotting the city bylanes to catch the colors of Independence Day celebration. While the cheers and fervor flied high with the spirit of freedom, few children at Omkar Nagar slums, bare-bodied by default and by destiny's design as one may say, showed the real face of freedom in Nagpur, perhaps the rest of nation. So are we really free before we soak our self into the fake colors of freedom. A long way to go to feel independence from within, till these slum children get to play with clothes on their tender bodies exposed to harsh realities under the sun….till we do our bit to uplift these downtrodden and discarded lot of innocent children…till then, let's not show what is not.
PICS BY : Ravikant Kamble