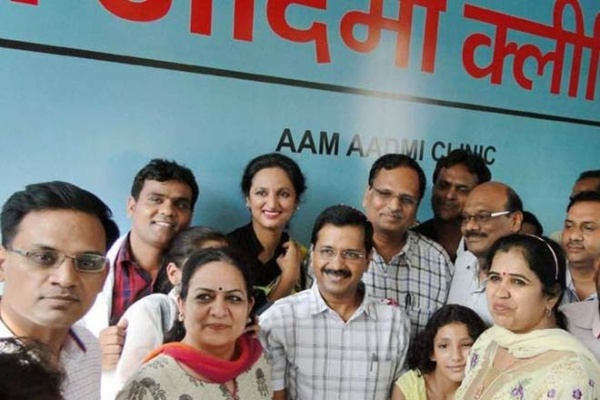 New Delhi: Delhi's mohalla clinics, which is one of the most talked about initiatives of Arvind Kejriwal government, has found a rare fan in the form of country's top policy think tank Niti Aayog. The think tank, which was set up in place of the Congress-era Planning Commission after Narendra Modi came to power at the Centre in 2014, appears to be impressed by the mohalla clinics model and wants it to be adopted for Centre's ambitious plan to set up health and wellness centres across the country.
In Delhi Confidential column, The Indian Express today reported that the Niti Aayog is "pushing for Delhi's mohalla clinic model to be adopted for health and wellness centres".
IE report quoted Niti Aayog member (health) Dr Vinod Paul as saying that Delhi's mohalla clinic model should be looked into. Paul said this at a state level workshop on Wednesday while stressing on out-of-the-box thinking for setting up 1.5 lakh health and wellness centres across the country. He added, there are many positive points about mohalla clinics, though there are some issues with them also
AAP government's mohalla clinics have won praise internationally.
In January last year former Secretary-General of United Nations (UN), Kofi Annan, had praised the Mohalla Clinic project in a letter to Arvind Kejriwal. Commending the project as "successful and impressive", Annan had written: "You have scaled up the provision of universal free health services, most notably in providing free primary healthcare services through your mohalla clinics. We understand that this initiative is proving very successful and we commend you on this impressive achievement".
Following Annan, the project earned praise from former World Health Organisation director general and Norway prime minister Gro Harlem Brundtland. She found the project as an "excellent strategy" to build an exclusive health system in the country and bring universal health care to people.
Under the Ayushman Bharat programme, the Centre aims to make "path breaking interventions to address health holistically, in primary, secondary and tertiary care systems, covering both prevention and health promotion." The two flagship initiatives under this programme are: a) Bringing 1.5 lakh health and wellness centres closer to homes of people. b) Under National Health Protection Scheme, providing health insurance coverage up to Rs 5 lakh to over 10 crore poor and vulnerable families across the country.