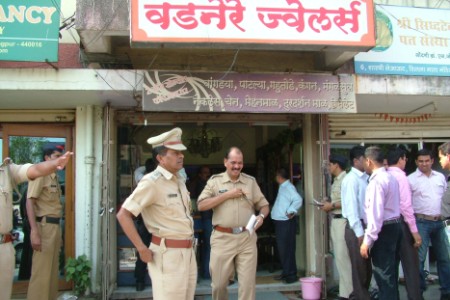 Nagpur News:
The spate of loot, burglaries and robberies seems to have no end in Nagpur. Just four days has passed for a murder in shoot out at Shankar Nagar yet another dacoity took place at a jeweller shop on Thursday leaving an embarrassment on city police administration.
Six masked armed dacoits barged into Prakash Vadnere's jewellery shop at Shastri Lay-out in Subhash Nagar in broad daylight Thursday. Vadnere told Nagpur Today that the incident took place within 2 minutes.  The loss suffered is estimated around 10 lakhs.
"Six masked youths came on three bikes. Four barged into the shop while two remained outside. Two were carrying revolver while other two were having knife with them and two bags. One of them threatened me at gun point while others opened the showcase and started filling the valuables in their bags," said Vadnere, a resident of Sitabudli. He added that the youths had disconnected the landline connection and even took away his cell phone with them. He owns the jewellery shop from past twelve years at Subhash Nagar.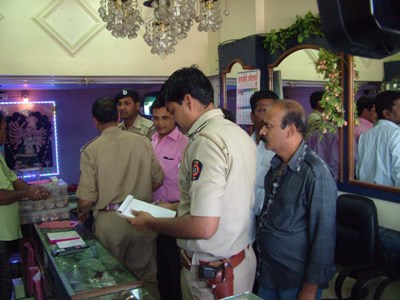 Interestingly, a 12-year-old girl witnessed the incident and even note down one of the bikes number.
Vadnere was having his lunch when the youths entered his shop. "They didn't allow me to move. However, when I resist two of them hit me," he added. Police said the dacoits took away only gold and few silver valuables with them and left imitated jewellery.
Though masked, the act was captured in three CCTV cameras installed at the shop. Rana Pratap Nagar police and crime branch are trying their best to find out any rough images of the culprits.
The minor, a seventh standard student told police that she was passing through the shop to nearby water tap to drink water when she saw the youth had pointed his revolver on Vadnere. She told that she was continuously staring at the youth pointing gun, but other two youths who were standing outside scowled at her and she ran under fear. The minor also informed police that from past three days she has been watching some youths who would come to nearby Xerox shop and would roam around.
Police said the minor studies at nearby school and had come to drink water in lunch time.
"It seems that the dacoits had studied about the area and even note down the timing when there are no people around," informed police.
The youths while fleeing from the shop were seen by Manisha Purandhare, who stays on the second floor of the complex.  "I saw masked youths came hastily from the shop with two bags and fled on their bikes. It didn't take any time for me to know that they had looted someone and I shouted alerting everybody," she said.
Mahendra Bhargav, who owned the shop in the same complex, rushed for help. Bhargav said that he immediately took Vadnere on his bike to follow the dacoits but couldn't find anyone. "We had gone till Subhash Nagar square but they had disappeared."
CP K K Pathak, who had investigated the spot, has increased the security all over the city.