Nagpur: On Sunday the October 2, 2016, when many social organizations were involved in the Swatchata Abhiyan, some off-duty Police Inspectors of traffic department volunteered to clean the Railway area.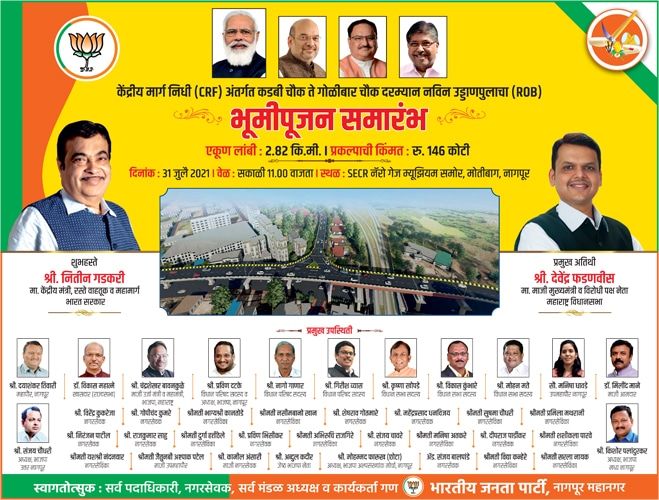 They were not asked to do so, but they chose to do so voluntarily. This move was done since it is their Karma Bhoomi (work-place).
While speaking to Nagpur Today, some senior Police Inspectors said that there is a big pot hole right in the spot where the flyover starts or ends. They have pointed this mega pot hole to the authorities umpteen times, but to no avail. They have been requesting for them to clean the open sewer line which flows right next to the flyover near the station. However, NMC has displayed an apathetic attitude towards the pressing demands. This open gutter line is the breeding ground for diseases like dengue, chikungunya etc. While one hand, the authorities carry-out cleanliness campaign in posh area, they seem to ignoring many important areas.

Shaheed Smarak encroached upon
One more startling and shameful incident has come to fore. The Shaheed Smarak which once used to stand right in the middle of the road in front of the gate of South Eastern Central Railway and was later shifted near the gate of the Army Recruitment Centre hit opposite Nagpur Railway Station. Taking advantage of the NMC's apathy, a store owner renting out bicycles by the hour had encroached upon the Martyr Memorial construction. He had kept all the cycles and had even tied a tent using the memorial stone.
When the Senior cops of Traffic department called the authorities of NMC to inform them about the blatant encroachment, the answer they received was "It is Sunday and that no employees was available" The NMC authority went on to ask the traffic cops to clean it if they want to."
Irked by the reply, the senior Police Inspectors of Traffic Department called a truck and picked up all the cycles and removed the tent and other material which the encroacher had fixed there.
Pics by Roshan Singh