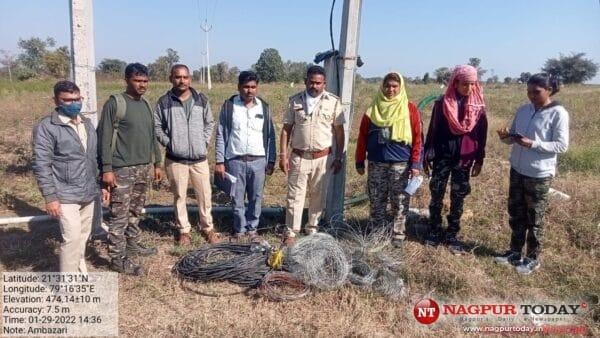 Nagpur: On 29th January, Pench Tiger reserve, Maharashtra carried out anti snare and anti-electrocution operation in 22 villages of the Paoni UC range and 6 villages adjoining to Developer wildlife ranges.
Total 15 teams, 11 in Paoni UC and 4 in Devalapar each consisting of the one FG and 5 STPF (special tiger protection force) participated in this operation. Staff of the MSEDCL were present.
In two different incidences, Shri MN Bagmare and Shri Ambali were found to use naked wire in their agriculture farm, SNo 130 and 154 in Ambazari village respectively. 800 meter naked wires and 3 holders were seized during the operation.
After recording panchnama, cases have been transferred to MSEDCL department for further action. ACF MN Parab, RFO JR Tayade, P Babde, A Bhagat, and Junior Engineer Shri Ghadge were present during the operation.
In a similar anti-electrocution drive carried out on 16th January, staff of the Deolapar wildlife Range had seized wire in 496 SNo of Savara village of Nagpur forest division, belonging to Shri Seikh Faruukh Pathan. Later on, case was transferred to MSEB for further action.
Pench staff is working jointly with MSEDCL & Territorial staff to check on electrocution activities in area. As Fire season also heading way, Awareness programs & rewards have also been planned by department.