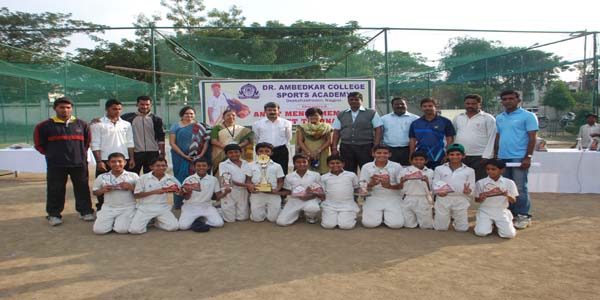 Nagpur News : Dr. Ambedkar College Sports Academy defeated Reshimbag Gymkhana by 121 run.
Prize distribution was held at the hands of Dr. Mrs. Malati Reddy (Principal Dr. Ambedkar college), Mr. Viyay Menon (Director Nair Coal Services Pvt Ltd.) Guest of Honor Dr. Smt. Pradnya Bhelwa and Prof. Mrs. Varsha Deshpande Dr. A. P. Joshi Presided over the function. Prof. Deepak Borkar proposed the vote of thanks and Prof. Prashant Bambal conducted the programme. Mr. Prashant Kantode, Mr. Shailesh Raulkar, Mr. Venukumar Rao, Mr. Mohatasim Ansari and Mr. Sameer Sheikh worked hard for the programme.
Prize Winners:-
1. BEST BATSMAN                        –Sandesh Durugwar (R.G.)
2. BEST BOWLER              – Akhilesh Bailenwar (R.G.)
3. BEST ALLROUNDER   – Ankit Pande (D.A.C.S.A.)
4. UPCOMING BATSMAN            –  Ketan Alsi (S.B.C.A)
5. UPCOMING BOWLER  – Aryan Khan (D.A.C.S.A.)
6. MAN OF THE TOURNAMENT – Mihir Kirloskar (D.A.C.S.A.)
Upcoming Players of the Tournament:-
Prerit Agrawal, Dhanajay Bokare, Prajwal Lodhe, Aman Dehankar, Manan Dosi and  Krish Gosar.