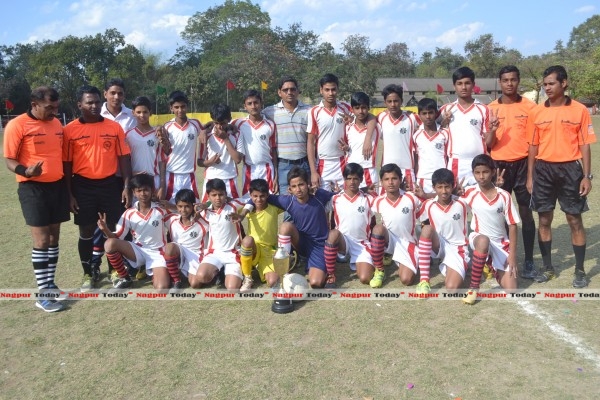 Nagpur News : Anjuman High School retained their title by humbling Chanda Devi Saraf School 5-1 in the final of Jawaharlal Darda Memorial Inter-School Football Tournament at Police Line Ground Takli, on Saturday.
Mohsin Khan put his team in front by scoring the first in the 16th minute followed by a 42nd minute strike. Uzaif tripled the score for Anjuman in the 45th minute. Jasbir Grewal pulled one back for CDS to trigger a failed comeback. Mohd Ikram increased the lead 4-1 in 75th minute and then two minutes later Uzaif added one more to his tally as the game ended in a thumping victory for Anjuman, thus giving them their second consecutive title.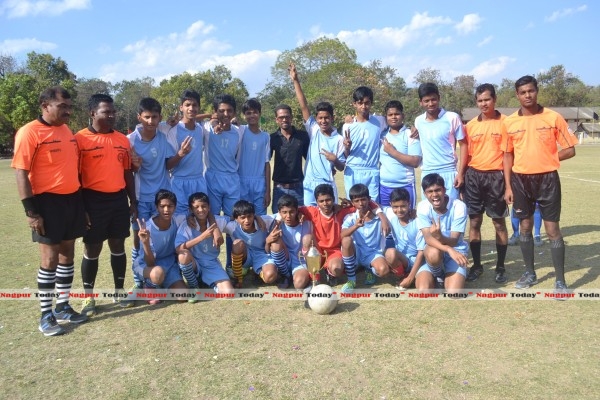 The winners walked away with a cash prize of Rs 15,000 while runners up were awarded Rs 7,500, during the the concluding ceremony of the event. NDFA vice president Haresh Vora, general secretary Eugene Norbert, Pradeep Nagrurkar, Iqbal Kasmiri and principals from both finalist schools Tyron from CDS and Shakeel Ahmad from Anjuman HS and others were present on the occasion. Champion team include Mohd. Shaid, Sheikh Shahid, Naushad Ahmad Ansari, Naved Akhtar, Mohd. Anwar, Mohd. Salman Ansari, Mohd. Sharif, Uzaif, Mohsin Khan, Mohd. Ikram, Mohd. Mustafa, Anas Ansari, Ziaur Rahman, Mohd. Mohtashim, Aquib Zubair, Shahrukh Khan, Mohd. Sajid Ali; coach Mohd. Javed Rana; manager : Meraj Ansari.