Anjali Damania moves on to check mate opposition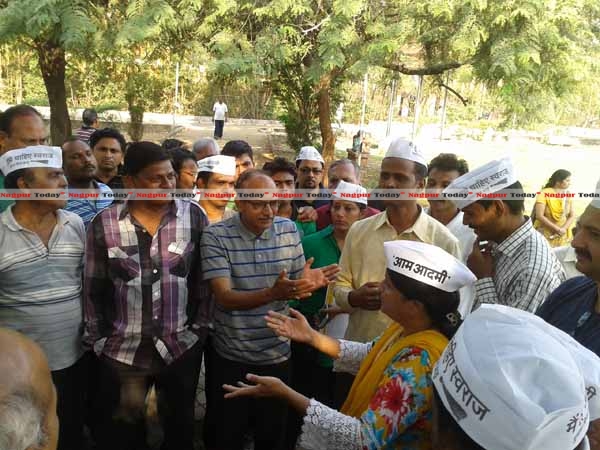 Nagpur News : AAP's Lok Sabha candidate, Anjali Damania has now concentrated her campaign efforts to checkmate the opposition and fortunately for her Nagpur Aam Adami that is common man is ready to join hands with her. In all the six Vidhan Sabha areas her symbol, broom is making its presence felt. All the common people of these areas are joining Anjali Damania and her workers by resorting to broom and joining her padyatra.
She is directly hitting at corruption, inflation, non implementation of schemes and laxity in government working, thus she is attacking the establishment in many ways. She claims that both Congress led state and central government and BJP led NMC have failed to deliver the goods due to their utter inefficiency. This is not just her opposition for sake of opposition but this she reveals during her dialogue with the people at large and the people are also responding with similar reaction.
The people who are frustrated with the working of political parties are placing their trust in AAP and this is adding to her responsibility, Damania says. But in the same breath she claims that her party is very capable of accepting this added responsibility.
On March 27, Damania started her padyatra in north Nagpur from Tipu Sultan square and proceeded through Yashodhara Nagar, Garib Nawaj Nagar. Her evening bike rally started from Poddareshwar Ram Mandir then proceeded to Mominpura, Panchpaoli, Tandapeth and will culminate at Naik Talab. She is going to hold her meeting near Naik Talab police post and AAP has appealed to the people to participate in large numbers in the meeting.
In addition to Anjali Damania's rallies her workers are also holding their own rallies in their respective areas with lot of enthusiasm.
Today evening, video tapes of Arvind Kejriwal's effective speeches  was shown to people near Sai Mandir between 7 to 9.
Anjali Damania's rally schedule of March 28 is as under-
7:00 – 12:00 PM
Kachipura Slum – Subhash Nagar – Bhende Layout – Takli Sim – Jaitala – ekatmata Nagar./
4:00 – 9:00 PM
(North Nagpur, Scooter Ralley)
Om Nagar – Saint Jaindra Society – Preeti society – Arya Nagar – Kale Layout – Jaripatka Police Station – Hudko Colony – Bhim Sq. – Suyog Nagar – Kapil Nagar – Tekanaka – Colony – Kabir Nagar.
8:30 – 10:00 PM
(North Nagpur, Jahir Sabha) – Gurunanak Bhavan, Kamal chowk, Gurunanak Pura, Nagpur.
7:00 – 9:00 PM
(Video Show) – Near Jama Masjid, Mominpura, Nagpur.