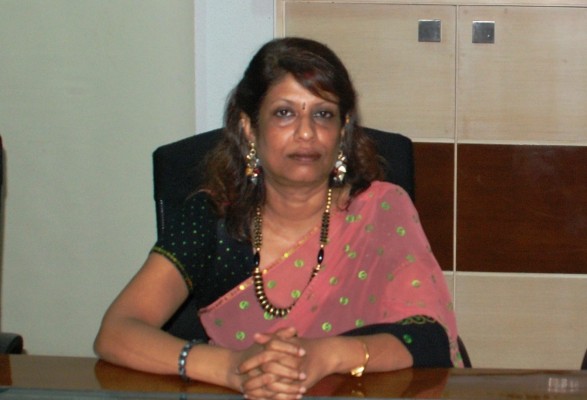 Nagpur Today: What made you a businesswoman and what is the story of your success?
Anita Rao: Honestly if you ask me I never thought I would become a businesswoman as I come for a family background where everybody belongs to the service background and not only service background but most of them are into government service. Moreover being a south Indian you can imagine the kind of atmosphere there was in my house. So consciously I never thought I would get into business. I started the Nagarjuna Ayurvedic Center way back in 2002.
Before that around 12 years i was working with various sectors mainly in Marketing, PR and Communication. Those days I was happy with my job as it was a carefree atmosphere but then realized I reached a saturation point where I needed change. I started thinking about Nagpur as a place for business but then realized that the growth is to slow during those days so I told my husband let's move out of Nagpur and start up a business but due to family reason he wasn't ready to leave his parents behind. I later told my husband that I am going to quit as I am not been able to move forward but I now require a change  in my career.
My husband was the one who told me let's get into business but being a woman and having no sort of knowledge about business I was very reluctant about getting into such a big league. In the mean while as I was thinking of getting into business I happened to meet a friend who was already in to Ayurvedic business and he suggested as to why don't you get into exports of Ayurvedic products and that's how Nagarjuna became a part of my life.
Nagpur Today: How is your experience of working in different sectors?
Anita Rao: My experience of working in various sectors has been a journey of a lifetime which has taught me all the traits that has made be successful today but there has always been a craving for teaching and I am a guest faculty in some of the colleges in Nagpur.
Nagpur Today: What is the philosophy of a successful businesswoman in your view?
Anita Rao:  See there is no philosophy of a successful businesswoman but basically what I feel the mind set has to be like a businesswoman. The main problem with women is that they don't take out time for themselves, if you want to do something in life you will need to get serious about it and have a proper balance in life and work also. So you cannot run a business by keeping it as your last priority but in the initial stages it has to be you first and only priority. Then only you can run a business. So I would say to all the women , dream, stay focused and chase your dream as there is no tomorrow and definitely success will follow.
Nagpur Today: Did you face any challenges in mobilizing you capital?
What were the financial requirements and how did you mobilize funds?
Anita Rao: Before answering this let me tell you that I wasn't knowledgeable about how to run an Ayurvedic center but after meeting the MD of Nagajuna in Kerala on my trip to attend my cousins wedding he kind of showed me how Nagajuna worked and how to go about the business but still I wasn't sure and after returning to Nagpur I got busy with other work and forgot about Nagarjuna but then a call of reminder from the MD brought back the idea in my mind. But the work wasn't done yet and I had to face one of my most testing times till date. Money, money and money… I approached many banks for business loans but got rejected by every single bank as they didn't have faith in my idea as Nagpur still didn't have the drive or knowledge of Ayurvedic center like most of the metro cities. The rejection was every possible bank brought about an energy in my body and mind and I said these people think my business won't work and are not giving me loans now I will get a loan so how and start this business and make it very successful. Then after trying hard for a loan one of my husband's friend who was a banker agreed to give us a loan but here came another twist, loan would be made available but only as personal loan and not business loan but to get this loan you will need to keep something as mortgage value and unfortunately all my property was in Kerala and I had nothing here in Nagpur so the only option was the house papers of my in-laws. Later on I spoke to my father-in-law regarding me setting up a business and that I would require the house papers but I always had a doubt that I would be difficult for my father-in-law to give me the papers as we were staying in a joint family. I was fully confident that 99% he will say no but what came next was out of this world, my father-in-law didn't ask me a single question and took out the house papers and gave it to me in my hands and said Anita you can start your business and that day and his gesture I can never every forget in my life… The financial requirement was around 8 lakhs.
Lastly I would say that…
My Father-in-law is the reason Anita Rao is Anita Rao as a businesswoman.
Nagpur Today: How is the industry today and its market trends in terms of Ayurveda?
Anita Rao: See Ayurveda is at a boom right now because more of the people are getting fed up with the Allopathic medicines as it also has a lot of side effects. The people of today have also realized that taking short term therapy is not at all worth it and that's has turned their attention towards Ayurveda. In 2002 there wasn't any awareness about Ayurveda but times have changed now and people prefer Ayurveda to be a better way of treatment than most of the other therapy available. Today there is so much of response and in the coming 3 to 5 years this will bloom at a blistering pace and so we have peaked at the right time.
Nagpur Today: Which characteristics you possess that you consider to have contributed to your business success?
Anita Rao: Firstly when I am in the office I never think that I am a women and thus I should be getting some extra privileges moreover I don't even make people treat me like that as I am the boss of that place. We are a family and we are happy to be like that. I sometimes play various roles in the organization from been a boss to get out work from my staff, to being their friends in times of crisis, to being a mentor for upcoming doctors and various other roles.
Nagpur Today: How would you rate your products in terms of quality served, Quality of the employees and in terms of service offered to the customers?  
Anita Rao: The Quality of the productsdoesn't require a second thought as it is the best in the industry in terms of everything you require, secondly the products directly come from Kerala so the quality doesn't require to be tested as Kerala is known for the excellent range of Ayurveda products. Coming to the next part of your question I will only say that I was and still am blessed with the best staff I have and had. From the time Nagarjuna started in 2002 till 2012 I have had the best staff by a miles distance and finally the quality of services offered you will have to come and visit and take a tour of the place for you to decide whether it is good or not.
         Nagpur Today: What are your business goals in future?
Anita Rao: To be honest I never thought I would last this long in the business but since I have lasted, thanks to the people who wishes and blessings made me last this long but coming to the business goals of the future, yes we have something lined up like we already have a training institute for the doctors under the Nagarjuna brand and also we conduct courses for the doctors and finally in the near future we will be starting a hospital. This hospital will cater to people also who comes from outside Nagpur as most of the people are from outside Nagpur also.
Nagpur Today: How do you spend your leisure time?
Anita Rao: Music is my passion and so old Hindi classics are my favorite.
Nagpur Today: Good wishes for the team of Nagpur Today?
Anita Rao: Be Honest to your profession and print news for the betterment of    the people and the country and   not    for the worldly matters.
By Marcelo Azavedo.