Doctor at Meditrina saves the limb of a 91 year old man from Gujarat.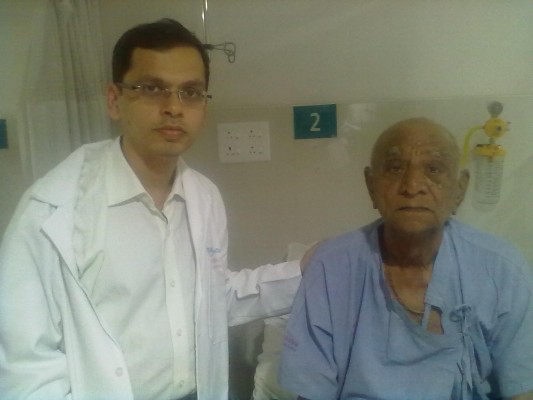 Nagpur News: Angioplasty is a safe procedure when done by experts. When the patient is above 75 years, the procedure becomes technically difficult because of age-related changes that occur in the body.
A patient named Punabhai Chudasma, a 91 year old Male patient from Gujarat, presented recently at Meditrina Institute of Medical Sciences, Nagpur with symptoms of right lower limb pain, ulceration, and also experienced difficulty in walking. He was advised conservative medication at his native place in Gujarat. In view of limb threating ischemia, patient underwent angiography of lower limb vessels. It showed totally occluded thigh vessel, distal artery was filling through collateral. Post an angiography Dr. Pankaj Harkut, Consultant Interventional Cardiologist & Director – Cardiology Services decided to do angioplasty of totally occluded vessel. Any further wait, and it would have led to gangrene & ultimately septicemia and patient might could have lost his limb. Angioplasty was performed swiftly without any complication. Now the patient will be able to walk and his limb ulcers will heal eventually. The future prognosis of the patient is excellent.  The symptoms have already drastically reduced. He has been discharged and will lead a near to normal life, taking into consideration the nonagenarian age of the patient.
It is because of angioplasty that a major surgical procedure was avoided as surgery at this age is associated with risk of anaesthesia and unusually prolonged recovery time. Those who are elderly, they have unusual risk involved due to age related changes occurring in the body like stroke/paralysis, bleeding and kidney Failure. In elderly people due to calcification of blood vessels, negotiating blocks with balloons and placing stents is not easy. But surgical option is even more risky in elderly because of anaesthesia related problems, infection because of depressed immunity and prolong recovery may hamper mobility in elderly leading to bedsores and thrombosis of lower limb veins.
Lauding the the meticulous precision with which the well established Meditrina Cardiac Department of the hospital works with, Dr. Sameer Paltewar, Director Meditrina Institute Of Medical Sciences, said, "This case exemplifies that angioplasty in properly selected cases can be done at such advanced age. Thus age should not be the sole criteria in deciding modality of treatment.
Elderly should not be denied treatment because of their co-morbidities as relatively less morbid procedures can now be performed at advance medical centers. Even coronary angioplasty can be performed at advanced age in selected cases which reduces the major morbidity associated with surgical options.
Dr. Pankaj Harkut, Consultant Cardiologist & Director – Cardiology Services at Meditrina Institute of Medical Sciences, opines that if the patient is in expert hands, angioplasty in selected cases may turn out to be safer option than bypass surgery in the elderly (especially those above 80 years). In angioplasty all the blocks need not be addressed. Doctors can decide based on the physiological importance of the blocked vessel and focus on the culprit vessel alone and leave the rest to medicines and nature.