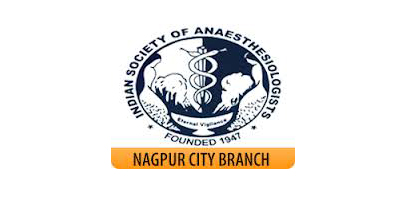 Nagpur Today:
The first Indian Society of Anaesthesiology (ISA) Maharashtra State Biennial CME-2013 will be held in the city at IMA Auditorium on November 23 and November 24,, 2013.
"The two-day academic meet, with theme 'Let's share knowledge and experience', will have scientific sessions covering areas of clinical anaesthesia in day to day practice. This CME is a new activity of ISA-Maharashtra State Chapter and is being hosted by the versatile, vibrant and vigilant Team ISA-NCB", informed the President of ISA-Nagpur City Branch and Organizing Chairperson Dr CharutaGadkari, at the press conference.
Renowned social activist and founder of SEARCH project in Gadchiroli Dr Rani Bang will be the chief guest. President and secretary of Maharashtra ISA Dr Satish Deshpande of Latur and Dr Hitendra Mahajan from Nashik will also be present in the meet.
Around 350 delegates from all over Maharashtra are expected to attend this CME. MMC has allotted 4 credit points for delegates of this CME.
Dr NarendraTamhane,Dr C S Cham, Dr VikramAlsi, Dr SunitaLawange , Dr SheetalDalal were present at the press meet. The enthusiastic organizing team is working hard for the success of the CME.
It is a new activity of state ISA to keep its members updated, informed Dr Charuta Gadkari, president of city chapter of ISA. "There would be informative lectures, interactive panel discussion, debate and analytical what went wrong session through the CME," she said. "Various office bearers of state ISA from all parts of Maharashtra will be attending, along with more than 300 delegates. The faculty includes veterans as well as budding talent from anaesthesia," informed Organizing Secretary Dr. Saurabh Barde.
The Late Dr R K Pradhan Memorial Oration will also be introduced by city ISA in the event. It will be delivered by New Delhi-based eminent cardiac anaesthesiologist Dr Deepak Tempe on the topic 'Introduction to Trans-oesophageal echocardiography (TEE)'.
Dr Kalpana Kelkar, Dr Shakil Momin, Dr B D Bande, Dr Atul Kulkarni, Dr Indrani Hemantkumar, Dr Vijaya Patil, Dr S K Deshpande, Dr Naresh Tirpude, Dr Rajendra Sonone and many others will be deliberating on various topics. Papers and posters will be presented by post graduate students in anaesthesiology.