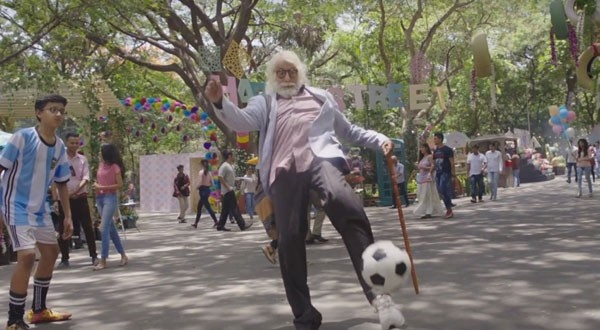 Amitabh Bachchan and Rishi Kapoor will reunite after more than two decades for Umesh Shukla's upcoming film 102 Not Out and Bachchan, who plays Kapoor's father in the film, took to his Twitter page today to share the first song 'Bacche Ki Jaan Loge Kya' from the film.
The song features Big B persuading his son to write a love letter to his estranged wife and goes on to show Bachchan's cheerful attitude as opposed to his son's dour nature. Sung by Arijit Singh, this happy and peppy number is composed by Salim–Sulaiman and written by Hiral Brahmbhatt. The film revolves around 102-years-old Dattatraya Vakharia (Amitabh Bachchan), who lives life to the fullest and wants to break the record of oldest living man, which is held by a 118-years-old Chinese gentleman.
Dattatraya wants to live a stress free life in order to become the oldest living man, but there is only one hindrance- his 75-year-old son Babulal (Rishi Kapoor) who has resigned himself to a life of old-age stuck in drudgery. Dattatraya now must find means and ways to change Babulal's sad and grumpy demeanour so that he doesn't become a deterrent in breaking the record.