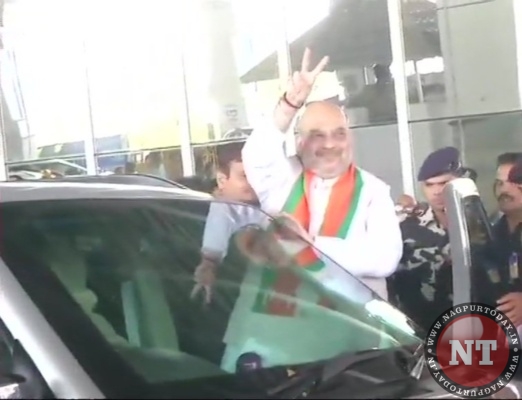 Nagpur: After registering a stunning victory in the Legislative Assembly elections in Tripura and Nagaland,aconfident Amit Shah, President of Bharatiya Janata Party (BJP) today on Sunday arrived in Nagpur . He will  meet Dr Mohan Bhagwat, Sarsanghchalak of Rashtriya Swayam sevak Sangh(RSS), and Bhaiyyaji Joshi, Sarkaryawah, at RSS Headquarters in Mahal.
Sources claimed that the top-brass of RSS will start brain-storming session from Sunday ahead ofits annual Akhil Bharatiya Pratinidhi Sabha (ABPS) meeting scheduled from March9 to March 11 at Reshimbag in the city.
It may be mentioned that BJP has won the Legislative Assembly elections for the first time in Nagaland and Tripura. The party also registered good performance in Meghalaya. RSS, which has been working in these States for several years, has played a major role.
Sources also claimed that four Sah Sarkayawahs of RSS including Dattatraya Hosbale and Suresh Soni will also remain present during the meeting. They all are in Nagpur to take some major decisions regarding organisational changes before ABPS of RSS. Amit Shah will interact with all the RSS top leaders and brief the mabout the victory in Tripura and Nagaland, and also about strategy regarding the forth coming Legislative Assembly elections slated in Karnataka, Rajasthan, Chhattisgarh, Madhya Pradesh and other States.
ABPS is the highest decision making body of RSS and it will meet from next week at Reshimbag. Inall, 1,500 representatives from all over the country and 36 associate organisations will participate. Nagpur will host the meet after three years. The meeting is likely to finalise the name of new Organising Secretary of BJP's Maharashtra unit, since Ravindra Bhusari had resigned last year.