Amisha Kelkar, topper in CBSE-SSC exams, aspires to become an engineer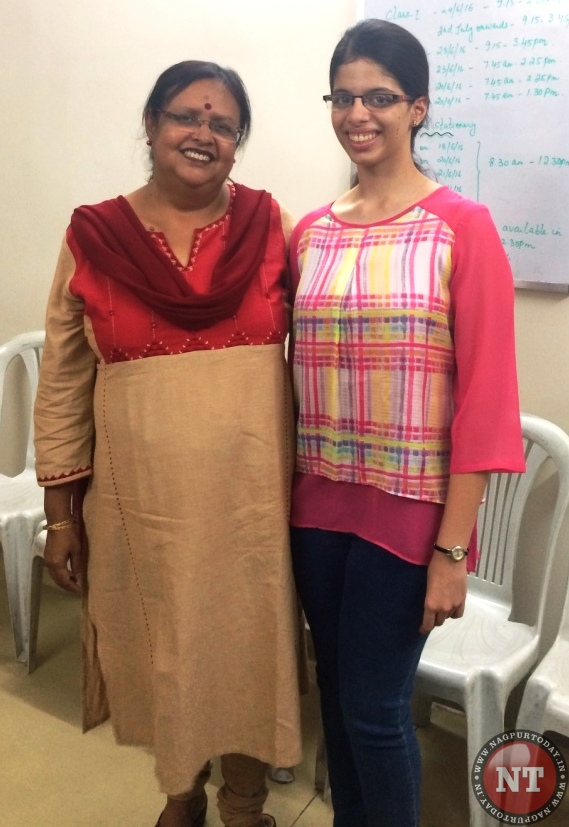 Nagpur: While speaking to Nagpur Today, City girl Amisha Kelkar from Centre Point School, Katol Road Branch who scored 99.4% said that she is very excited and "Super Happy". One of the teachers who was present said that her success is yet to sink in.
She is the second daughter of Dr Shailesh Kelkar (a Doctor with Getwell Hospital) and Dr Arti Kelkar (free lance Doctor).
Amisha said that she would like to give all the credit of her success to Principal of Centre Point School Shilpi Ganguli, all her teachers, her parents and her family members.
While speaking about the inputs for her studies, she said that she did not attend any tuition classes. She said that except for what was taught in the school by the teachers followed by her regular self study she did not rely on any other tuitions.
While speaking about her presence on Social Media, she said that she is not at all active on any social media like facebook, whatsapp, or any others. She has no mobile phone too.
While speaking about her stress busters, she said that she used to Dance, Listen to Music, Read novels like fiction, thriller etc. Till last year, she had participated in Nationals in Swimming. This year, she did her Kathak Visharads.
Incidentally, even her elder sister Arusha Kelkar was a city topper in XII Standard last year.
In her message to her juniors, she said that attend classes regularly, pay attention to what is taught in the class and study regularly. She added that regular studies will ensure that there is no need for tuition classes. She added that they should believe in themselves, their teachers and parents. She claimed that one does not need to be active on social media during your Class X.
Principal of Centre Point School Shilpi Ganguli said that she is very proud of Amisha Kelkar.