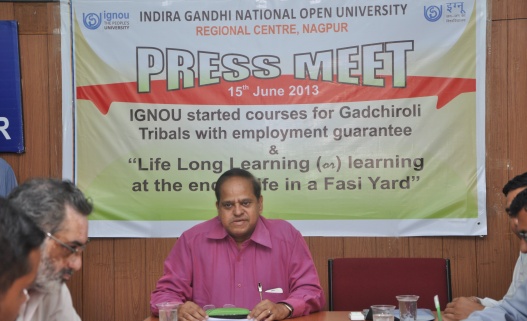 Nagpur News:
The Indira Gandhi National Open University (IGNAU) in a significant decision will start an ambitious six-month Certificate in Home Based Health Care (CHBHC) course for the Class X passed tribal students of the Naxal-affected Gadchiroli that will ensure 100 per cent employment guarantee for those students who pass the Certificate course, asserted Dr. P Sivaswaroop, Regional Director of IGNOU Nagpur Regional Centre while addressing a press conference in Nagpur. He said, previously also, the first batch of six rural women students at Yerla village in Nagpur were employed immediately after completion of the certificate course in January 2013.
The CHBHC course would be started from July 2013 onwards, Dr. P Sivaswaroop added and said that he was happy to announce the Care Hospital, Nagpur, has assured to give employment to all the successfully completing students of CHBHC from the Naxal-hit Gadchiroli.
Dr. P Sivaswaroop said, "a team of IGNAU had visited to Gadchiroli and nearby areas to make aware the people there about this course and many organizations, working in the Naxal-affected area, were approached for seeking their help in this regard. The Eklavya Mitra Mandal, an NGO in Gadchiroli, has assisted 8 tribal students for admissions into this CHBHC programme. We also met Devaji Tofa at his village Menda (Lekha) for enrolling his village youths into this programme. He assured that their Gramsabha will sponsor students for this programme," claimed Dr. P Sivaswaroop. "IGNOU has been making efforts to reach out to the different sections of the society especially, those who cannot access education effectively", said Dr P Sivaswaroop.
LAST DATE FOR .ADMISSIONS EXTENDED UPTO JUNE 30: Dr Sivaswaroop said that Indira Gandhi National Open University has been offering several courses starting from Certificate to Post-Graduate level courses to different sections of the society. The admissions for the July session are going on. IGNOU Nagpur Regional Centre is offering 28 Post-Graduate Courses like MA in English, Sociology, Social work, Political Science, Hindi. Similarly, Under-Graduate courses in 18 disciplines like BA, BCom, BSW and Diplomas and Certificate courses in 46 disciplines each. The admissions for these courses for July 2013 session are going on and the last date to apply is extended up to June 30, 2013 and also with a late fee of Rs.500 up to July 31, 2013. The prospectus is being sold at a cost is Rs.200.
MBA : IGNOU MBA programme is meant for working people who want to update their qualifications and knowledge. The Entrance Test will be held on September 8, 2013 and the last date to apply is  August 8, 2013. The price of prospectus is Rs.1000.
BEd: IGNOU offers NCTE-recognized BEd programme for in-service teachers. The prospectus cost is Rs.1000. The Entrance Test will be held on September 8, 2013 and the last date to apply is August 8, 2013. The prospectus will be available at all IGNOU Centres from July 1 onwards.
MBA (Banking&Finance): IGNOU is offering an exclusive MBA Programme for Banking & Financial Service employees to those who completed CAIIB. The last date to apply is June 30, 2013 and the prospectus cost is Rs.1000.
POST-GRADUATE DIPLOMA IN HIGHER EDUCATION (PGDHE): IGNOU is offering a One-Year PGDHE for teachers of colleges/universities. It is very useful in understanding various aspects of teaching in a college like curriculum design, evaluation, student psychology etc. It is similar to BEd for school teachers.
"LIFE LONG LEARNING (OR) LEARNING AT THE END OF LIFE IN A FASI YARD": Dr Sivaswaroop stated that IGNOU provides opportunity for all those who have a desire to study irrespective of their places of stay, previous qualifications or social status. "IGNOU already has 414 prisoners in Vidarbha Jails pursuing the courses. It utilizes various occasions to motivate prisoners to educate themselves through IGNOU. Our IGNOU Coordinator from Nagpur Central Jail informed that some of the death penalty prisoners in the Fasi Yard are also showing interest to study through IGNOU," he stated with a broad smile.
Dr Sivaswaroop said that "I arranged a counselling session, met them and counselled in the Fasi Yard. I explained about the IGNOU method of study and various courses in offer. Some are enthusiastic in joining BA, MA and also Urdu language course. They are very emotional that the teacher has come to their doorstep in a Fasi Yard," an emotional himself Dr Sivasawroop said. "They assured that they would continue studying till their last breath. This visit has given a new dimension that if opportunity provided and if people are properly guided, no person is beyond the purview of education," he asserted.
"This message from the prisoners should be seen as eye opener for the young students who attempt to commit suicide for being unable to withstand the pressure of their education. Here is the case where, prisoners who are going to be hanged, are also eager to study till their life ends!
Dr Sivaswaroop appealed to all youngsters to be emotionally stable and face the challenges, so that they can achieve new heights in their life.
Dr Rammurti Meena, ARD was also present at the press meet.